by Sam Bixby, Feature Editor
| | |
| --- | --- |
| About: | |
| Website: | |
| Contact: | This email address is being protected from spambots. You need JavaScript enabled to view it. |
As the Pandemic began to show us it wasn't going to go away quietly, stronger than the rattle of a major fault line with no seismic alert system, the events industry felt a major shake up. It was a jolt to their collective core. The lives of millions of live events industry professionals came to a screeching halt. People who had devoted their lives to living out a of a suitcase, working long, odd hours to make sure the show would go on were suddenly grounded. People who had skipped meals for days, thrived off caffeine, Snickers bars, and the rush of last minute changes and timelines felt the skid marks under their feet. It wasn't just the events professionals, though, it was the millions who played even a minor roll in supporting the industry who felt the tectonic plates shift.
The first to cancel, the last to return.
Suddenly, we were home. We made our own coffee. We slept a healthy number of hours. We cooked. We exercised. We took up hobbies. Our high energy, never-the-same-day-twice, highly detailed lives became….routine. We had creative energy to burn, though. And natural wanderlust to somehow feed from home. And that's when partnerships happened and things got inventive.
That is when Retreats Resources and one of their hotel partners, The Dorchester Collection, hooked up and had a Pandemic Love Child. They created their Pandemic Legacy with what became known as "Real Time Retreats" and saved many of us planners from the doldrums of our new lives. Together they conceived a very special version of a virtual FAM trip (familiarization trip) for those craving travel, exploration, camaraderie and the good life, and invited a group of meeting planners to join them every week….via Zoom. Only this wasn't just any Zoom presentation, it was educational but also interactive, networking with industry peers, cocktails….and costumes and virtual backgrounds! It took on a life of its own and carried on every week for a full year and then some.
And it was fabulous, darlings. And virtually perfect.
As I joined the presentation for each destination The Dorchester Collection represents I was nostalgic for my trips to each location or country I had made on my own or on work trips. The Pandemic had that affect on all of us. Nostalgia was something we could cling to and spend time with during this down time. For all of us who are so used to going going going, this was a time of great reflection. While we cleaned out closets and garages and cooked our old favorites and discovered our new favorite recipes, listened to music and watched re-runs while there was no tv or movies in production, we had the time, finally, to address those feelings of our past and come to appreciate them more than ever. And that was a good thing.
For me, I had spent most of my adult life sneaking in solo trips here and there, overseas and roadtrips in the US, some planned, some on the fly. This was, by far, the longest stretch I had stayed home and slept in my own bed, and for sure the longest I had not had my passport stamped.
So as these virtual trips became a regular part of my weeks, turning into months, taking on a life of their own….I was all in.
First stop: London calling!
My only trip to London was a spontaneous, whirlwind weekend in my early 20s. I was living in New York City, found a cheap ticket, and decided to go visit an Australian friend who was living there at the time. I didn't tell anyone I was going, other than the friend I was visiting. I thought it would be fun to just send them a postcard! Only the joke was on me. When I got to the airport I was told the flight was oversold and I was being reassigned and rerouted through Copenhagen, which would eat up a big chunk of my weekend away! By the time I arrived I was thoroughly exhausted but we made due of the time we had exploring London and then a night away in the Cotswolds.
It was only my third trip overseas, the first two being a year spent working and traveling in Australia then a return trip to visit for 5 weeks. Going to England for a weekend felt easy, like visiting a first cousin of Australia, but close by comparison, so it was only right that I take advantage of being able to do so.
This virtual trip to London was much, much more fancy than my weekend there, the way London ought to be experienced. The theme was Town and Country, as it would encompass three properties, two in London and one in Ascot. Donning my fascinator with my cup of tea and scones, with a virtual background of London Bridge, I sat back and was ready to travel.
No detail was left out, meals, drinks, amenities, they were all included, as our host and mastermind of the Virtual FAM experience walked us through our flight there to arrival to tea to formal evening events and day activities, including a vintage Mini-Cooper tour of London.
Our host made us feel warm and welcome, as if she was really hosting us on this FAM trip. Then we made our way to the country property, Coworth Park, in Ascot.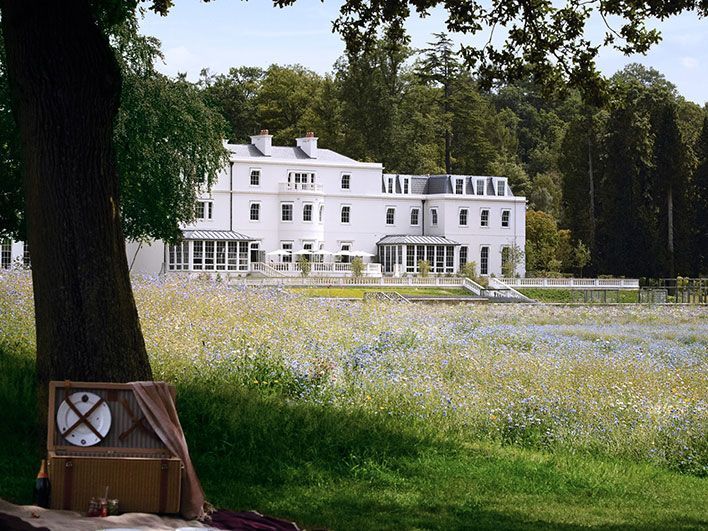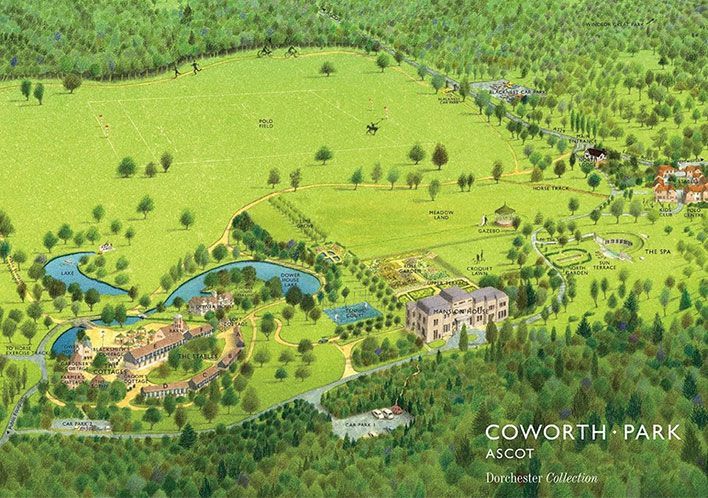 This property spoke to me…even through a screen and a virtual experience, it made me want to be there. I felt like I was there. The expansive property in the country following a few days in the city really made you exhale. Wildflowers, stables, outdoor dining, well appointed rooms, polo grounds…it was all dreamy and the great visuals took you to a relaxing place in your mind while you made a mental note to yourself to figure out how to bring a client there to experience it.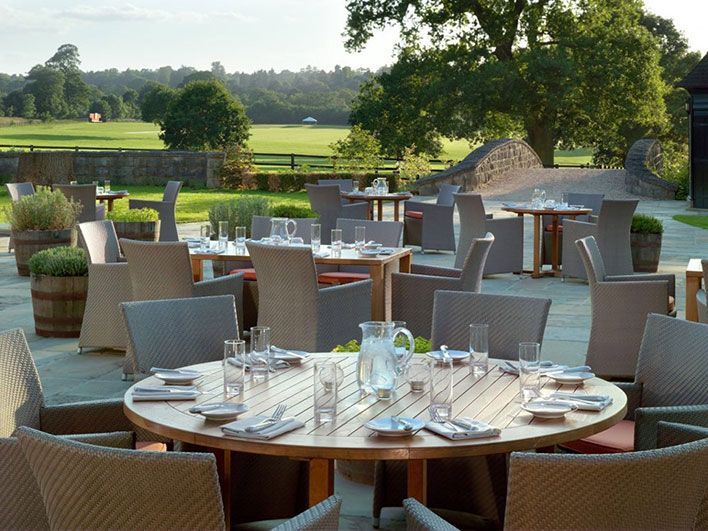 Next stop: La La Land!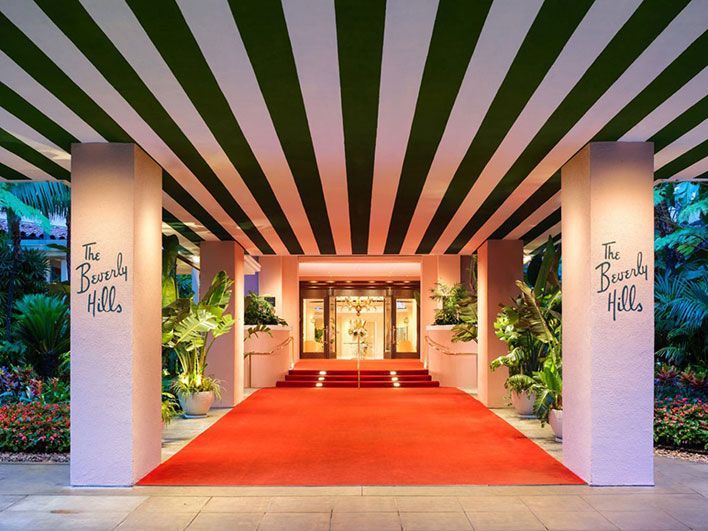 Using a virtual backdrop from a vintage themed photo shoot by photographer, Gray Malin, I channeled my inner-60s girl at the famous pink and green striped entrance to the Beverly Hills Hotel, an entrance that screams, "You have arrived!" as you walk into the hotel on the red carpet. I teased my hair into a bee hive tied with a scarf and a 60s style floral dress and giant white Jackie O sunglasses. My dog, Gus, was able to join me at the pool on this one (you know, because it was in the US), and sported a bow tie with the Beverly Hills Hotel signature banana leaf print. (banana leaf everything if you want it!)
This was a different kind of nostalgia for me, as I not so long ago called Los Angeles home. I loved living there. I loved the vibe, I loved being a part of the events industry there. It was warm and welcoming. I had friends there before I moved and quickly made new friends I knew I would have for life. An acquaintance from my old childhood summer camp in upstate New York was there and happened to work in sales for The Dorchester Collection, so I got together with him, sitting outside for coffee at Hotel Bel-Air catching up followed by a tour of the hotels.
Hotel Bel-Air is in a residential neighborhood so you arrive in the calm and quiet and can feel the privacy all around you. As we walked around the hotels he spoke of the history and significance of all the details in the hotels with expert level story-telling, and I was hooked. My absolute favorite spot was in the Hotel Bel-Air Bar and Lounge, in a dark corner with a photograph of Mick Jagger on the wall, where you can envision Mick Jagger actually sitting, quietly and undisturbed as a guest, among many other celebrities over the years.
I would spend more time with a contact there looking at it as venue options for clients, eating McCarthy salads at the Polo Lounge at the Beverly Hills Hotel and attend hosted dinners with The Dorchester Collection at a travel show in Las Vegas.
Their hotels in Beverly Hills and Bel-Air were always top of mind when looking for venues for clients. There is nothing better or that better personifies LA in the huge roster of hotels to choose from.
Again, the virtual FAM did not miss any details of what we would see and do on an in-person trip there. The properties are absolutely chock full of history and fun facts and decades of celebrity guests you can't help but feel that retro vibe from them.
Up next: Italy, with love!
My only trip to Italy was for work just a few years before, on an industry hosted education trip through the Italian National Tourist Board and the now closed Sicily Convention and Visitors Bureau. It was a trip of a lifetime to the east coast of Sicily, and it captured my heart. There is something about the Mediterranean Sea that draws you in. The whole trip was planned around the Feast of Sant'Agata in Catania. Life in Catania revolves around the volcano, Mount Etna, who stands, so grand, in the backdrop looking over them. She protects them. And the Feast of Sant'Agata was all about ensuring that protection. It was my first real big trip since a long recovery from a broken foot the summer before. I had traveled a lot, all over the world, in fact, with a broken foot, in a boot, only prolonging my recovery. And now, I was feeling much better, bootless, getting back on my feet, taking my victory lap in Sicily.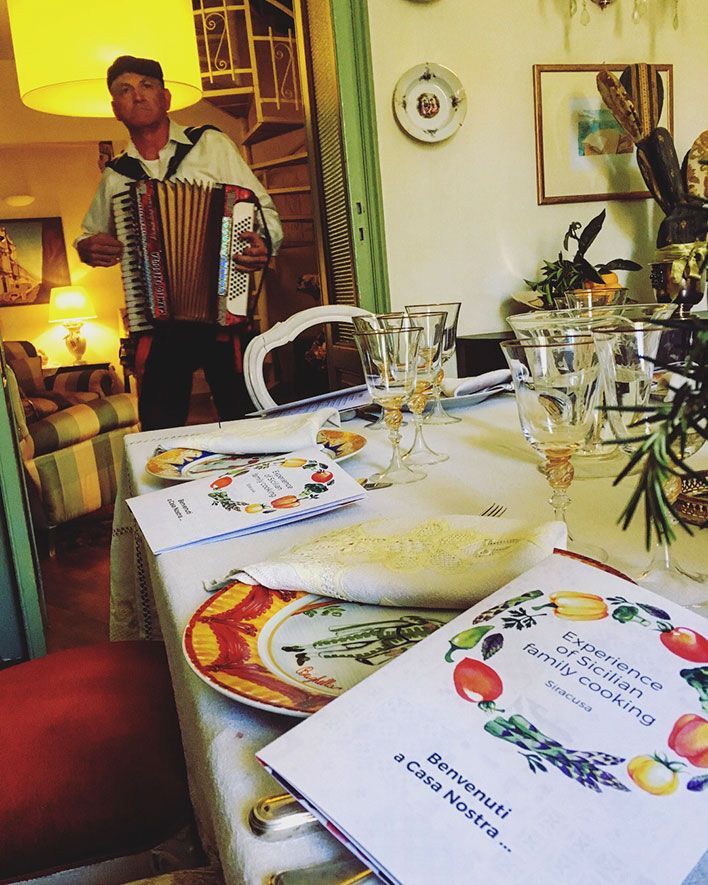 In Sicily we were treated to so many memorable experiences and the warm welcome from the locals, including making pasta for a lunch in a private home. The host did not speak English and it was a testament to how food brings you together, as it did not matter whatsoever as we could feel her hospitality and warmth through all the details in the fresh food she had prepared, including the pasta, delicious homemade bread and olive oil, cannoli, and homemade Limoncello. Touring the quaint seaside village of Taormina, we were treated to a special dance performance in a villa and the folklore of Sicilian ceramic heads. We drove up Mount Etna, the beloved Sicilian volcano, with an extremely passionate volcanologist, then ended with lunch at a beautiful Sicilian vineyard. It was magical and dreamy, just as you hoped Italy to be.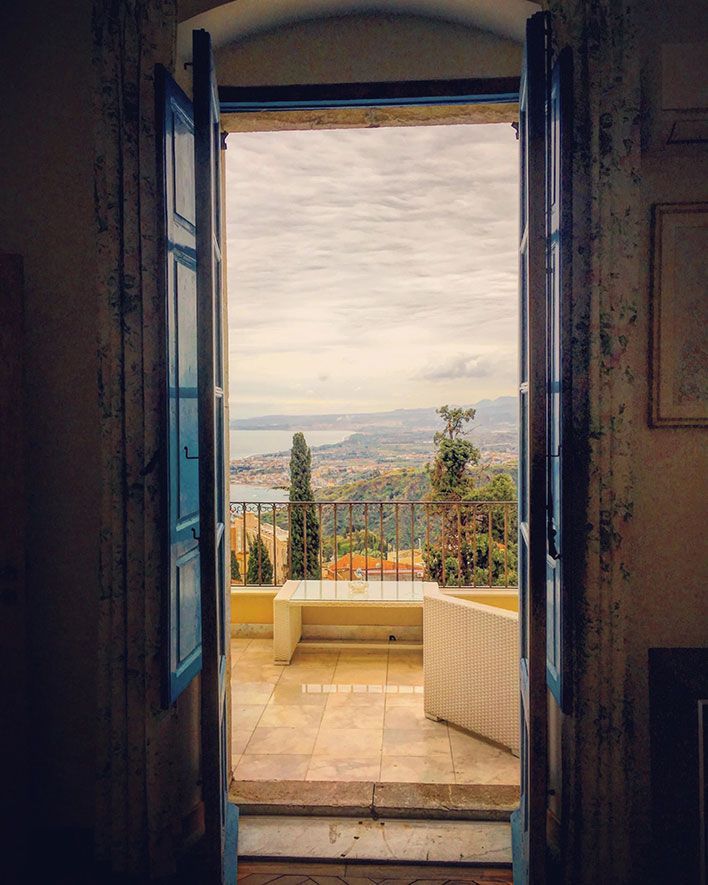 We ended our experience with the Feast of Sant'Agata, as she was paraded through the streets, anxiously awaiting her arrival to signify the end of the Feast. To view the fireworks we were VIP guests of the Mayor of Catania at City Hall that evening, walking through the streets passing worshippers who had been carrying candles who weighed as much as they did, all to ensure the protection of their family, as is the reason for the Feast. It was a once in a lifetime experience to witness firsthand an Italian feast like this. And now, our virtual tour of Italy was taking me back to that feeling I had there, falling in love with this country on the Mediterranean Sea.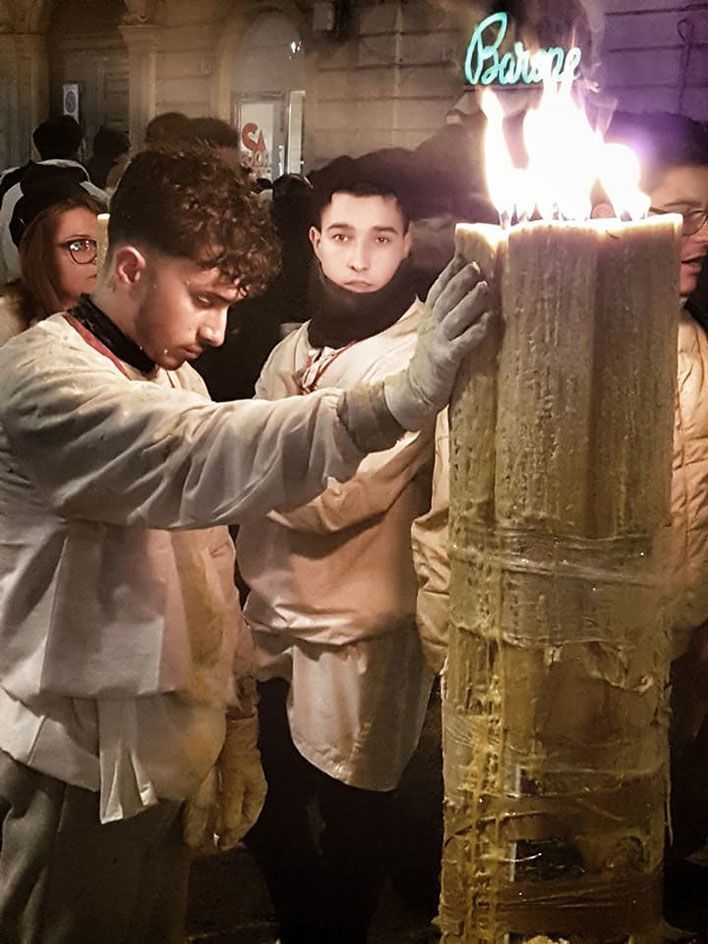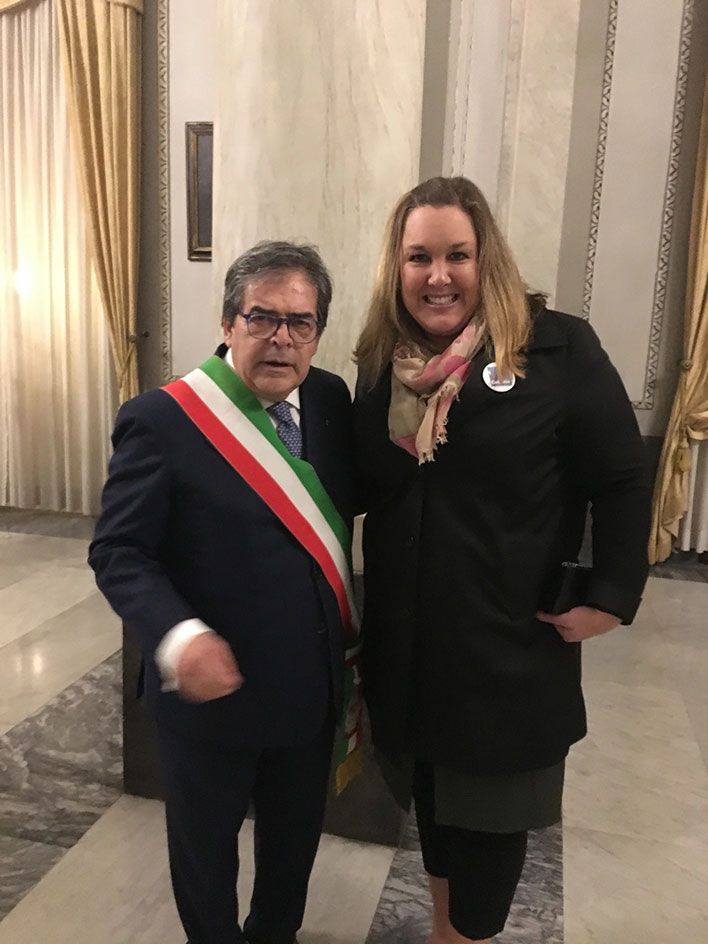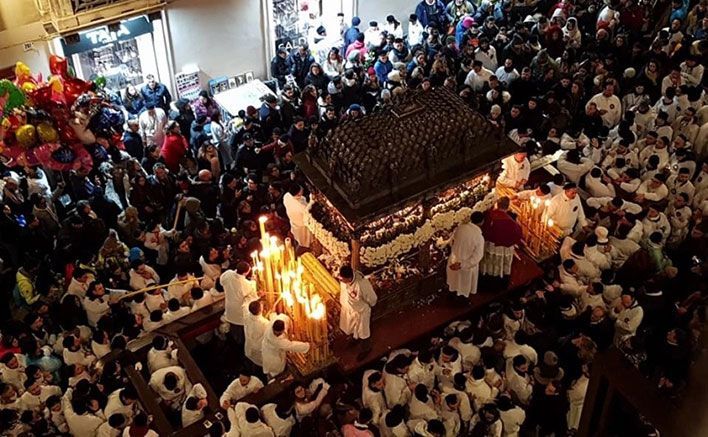 The Dorchester Collection properties were in Rome and Milan, however. I wasn't complaining. I would never turn down a chance to see and learn about any location in Italy.
Using a virtual backdrop of the Rome Colosseum and vintage Ferraris, I chose a vintage look for this one, my hair in a pompadour tied down with a chiffon scarf, driving gloves and cat eye sunglasses. I was vintage Ferrari ready!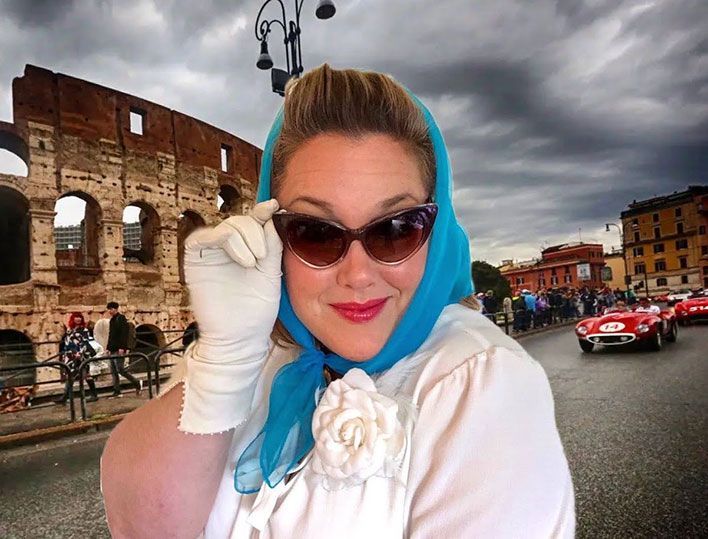 Again, every detail was thought of in the presentation. First Hotel Eden in Rome followed by Hotel Principe di Savoia in Milan, traveling (virtually) by train between the two cities, we were walked through the itinerary as if recapping every detail to a friend. From arrival to delicious Italian meals to seeing the sites in each city, the fashion, the food to room amenities that included a personalized touch especially for Retreats Resources.
Specific rooms were called out for meals and night caps and the fabulous visuals took us there, if only for a moment. To be able to see and imagine arriving in these grand lobbies and cocktailing in the most detailed and refined libraries was truly a (virtual) Five Star experience.
The personalized amenities were always a nice touch, calling out Retreats Resources in their effort to bring us all together for these amazing virtual experiences.
Last stop: Paris Oui! Oui!
My only experience with Paris was a whirlwind. On a return trip from Morocco I opted for a long layover in Paris to spend the night and see what I could of the city. What I didn't account for was the long wait in Customs and my taxi driver stopping for gas on his way to drop me at my hotel. I was pushing darkness by the time I checked in and got out and about. So I don't have any of those iconic photos of the Eiffel Tower you must get when you visit. Instead I have little memory of navigating the subway system, but I did, and made my way to the Eiffel Tower and got to experience going up in it at night while it was all lit up.
As I made my way back to my hotel I stopped at a bakery and bought a baguette and as I walked to my hotel I found myself pulling pieces off it it was so fresh that it was almost gone by the time I got to the hotel. So fresh, it felt like a meal, and that is what I think of when I remember Paris. I left early the next morning, stopping at the bakery again to buy baguettes to bring my dog sitter as a gift when I arrived home later that day.
Needless to say, I have always wanted to go back. There is so much to explore in a city like Paris. So many historic landmarks to see, so many quaint markets and cafes and museums to soak in. This virtual trip to Paris was much, much better than my stopover! Le Meurice and Hôtel Plaza Athénée, both located in Paris, were exquisite.
For this one I rolled my old cruiser bike into my living room and filled the basket with fresh flowers and baguettes as that was my memory of Paris, as if riding back from the market past the Eiffel Tower as my virtual backdrop, sporting my beret, of course.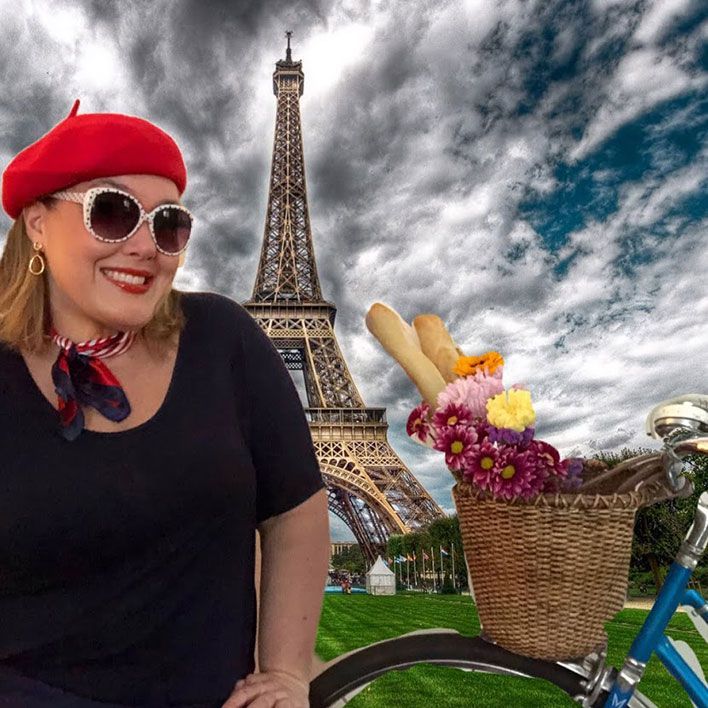 Again, walking us through the experience from arrival and the doormen welcoming you, to your personalized room amenity to outdoor spaces and a formal dinner full of Parisian elegance, you felt you were there. Le Meurice was historic and grand and well-appointed.
Greeted with champagne, Hôtel Plaza Athénée was romantic, sophisticated and colorful. The rooms felt residential. It was iconic Paris.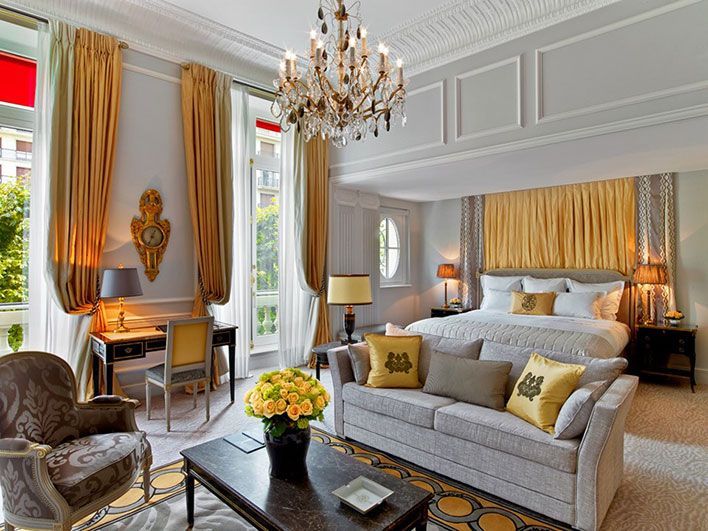 The visuals, once again, lead you on a fairy tale journey through the city and the hotels. You could almost smell the fresh flowers after a springtime rain. Even through the photos we were seeing on our screens you knew this was a place you could stay for several days while you took it all in. It gave us all something to remember, goals to set, and clients to convince to go there some day.
The comments, as usual, for all of these presentations, were off the charts with everyone exclaiming these were the best Zoom travel presentations they had been a part of, whether it was the first one, or the last one. And they were right. Because when a Pandemic Love Child is born it is born with the best of intentions, and that was to bring some light to a dark year; to boost up a stalled industry; to bring together the event professionals who needed a reason to come together; and to take us away from it all. And no better place to escape to than these beautiful hotels that were sculpted into perfect detailed works of art in all of these interesting destinations around the world. But for now, they were virtually perfect.
We'll always have Paris…on Zoom.
And now as we feel better days are coming, as the spring showers wash away what is hopefully the last bits of the pandemic, we are ready, thanks to this beautiful brain child that kept our excitement and passion for travel alive for more than a year. And thanks to the fun addition of costumes on these virtual adventures we have our berets and fascinators ready to pack into our luggage some day soon.
We have been waiting a year to say this and now it is time…
Oh, darlings, let's be adventurers!