Our Wine To Water Story

Water is just the beginning…
In 2009, as part of the organizing committee and founding board of directors for SITE Southeast and in search of a philanthropy our chapter could support, Carol and her fellow board members "stumbled upon" Wine To Water, a fledgling organization based in Boone, North Carolina, whose mission was to help solve the world's water crisis in innovative ways. They had been looking for a Southern based organization with global outreach, and one that somehow related to the hospitality industry.
Once they met Wine to Water founder Doc Hendley, with his powerful and moving personal story, they were inspired to make a long term and ambitious commitment to raising both awareness and funds for his growing organization.
Within a matter of months, it seemed the world had also discovered Doc's work and story, through his nomination to the CNN "HEROS" program, where he ultimately became a finalist, appearing on the nationally televised HEROS awards show.
Shortly thereafter, a massively destructive earthquake struck in Haiti, and Doc, accompanied CNN's Anderson Cooper, traveled there to assess the island's needs and find some solutions. The result of that trip was the discovery of a ceramics factory on the Dominican Republic side of the island which became a production facility for an inexpensive and highly effective ceramic water filter - a Wine To Water initiative that continues to thrive and provide inexpensive, long term solutions to families in these vulnerable islands.

Turning passion into purpose…
As SITE Southeast's annual "Southern Supper" fundraiser became an important annual resource for the Wine To Water community's efforts, Retreats Resources expanded the same fundraising concept of leveraging our relationships with our hospitality industry partners by asking them to offer hotels stays and experiences for auction to the event professionals who attend our roadshows and events.

We pledged to dedicate all our 2022 events to raise money for Wine To Water, and we raised more than $102,000 for the year.
Astounding as that is we want to exceed that in 2023!
Our donations have been deployed in a variety of ways, but a few notable examples are: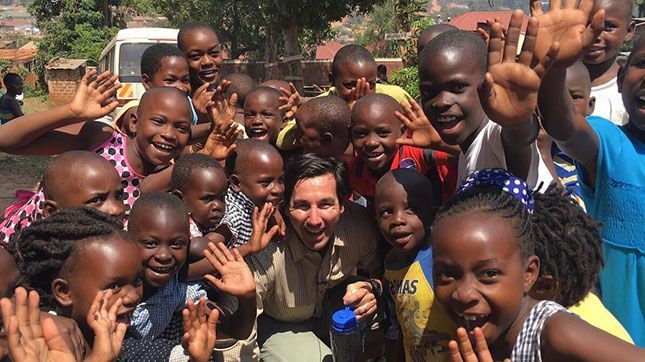 In 2016, we learned that one of the event professionals in our community was actively supporting an orphanage in Uganda through her church. As Wine To Water was active in Uganda, we asked Doc and his team to reach out to that orphanage to address their water needs. As a result, we were able to dedicate the proceeds of our auctions that year to building 2 wells for the new school they were building.
This was an example of the ways in which we have been able to put partnerships into action with tangible results that touched the hearts and passions of people within our own community.
In the fall of 2017 a devastating hurricane hit the island of Puerto Rico, where we have many valued resort partners. By adding a "filter build" activity to our fall roadshow, and implementing a travel auction, we were able to raise enough money to provide 350 water filters which were deployed to Puerto Rico the following day, providing immediate relief in the form safe water to 350 families for up to 10 years
In August of 2019, Hurricane Dorian brought widespread destruction to the Abacos and Grand Bahama Island. The money we raised – a "milestone" gift of over $33,000 - at our annual Connoisseurs Circle Conference a few weeks prior, was deployed to offer immediate relief to the citizens of these Bahamian communities. Along with their other corporate partners, Wine To Water's clean water solutions reached over 14,000 people on these islands, including a school with 590 students and teachers.
We can all make a difference, using the gifts and resources we have!
By employing our resources within the hospitality industry community to alleviate suffering around the world in vulnerable populations, we also discovered the impact to our fragile planet of all those plastic water bottles that have previously been part of the disaster relief solution.
We have learned that one water filter in a disaster relief effort can prevent the use of 50,000 plastic bottles.
This helps meet our planet's environmental challenges as well as our social and economic ones, and we are proud and honored to be considered "founding partners" of this impactful organization!
"Carol, just think how one person can change the world. That's you! You have made the hospitality industry better by not compromising what it stands for and how you run your company and express life."
Make an impact in our world!

There is a place for you here…
Wine To Water has opened a space for businesses both large and small to make in impact in our world with their Impact Partner Program - through filter-build team building activities, their wine gifting and event programs, their volunteer trip opportunities, their monthly giving program called The Tap, and more!
For more information or to find your own place in the Wine To Water family, please contact Tina Owen, VP of Business Development at This email address is being protected from spambots. You need JavaScript enabled to view it..
More about Wine To Water and Doc Hendley…
Doc Hendley CNN Hero of the Year Finalist
More about Doc and the Wine To Water story
Extraordinarily Ordinary TEDx Talk
Doc Hendley's premier on the TEDx Stage at Asheville, NC