Our Real-Time Retreat on Wednesday, April 22, 2020 was Wine, Tango and Passion! We virtually visited the diverse destination of Argentina with our hosts, Patricia Sahin and Maura Zhang, managing partners of Miami-based Synergy-Connect.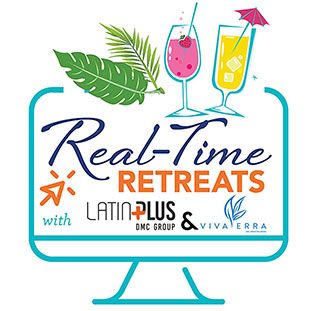 They're both seasoned professionals born in the Dominican Republic who share a passion for unconventional travel, emerging destinations and all things LATIN. They also share a love of wine, gastronomy and dance and can't wait to show you all the flavors, culture and landscapes that Argentina has to offer through Vivaterra DMC.
Join us for an interactive tour of Argentina through bespoke experiences including a Malbec Wine tasting in Mendoza, a Tango show in Buenos Aires, Destination Trivia, and a chance to win some great prizes!
Express your passion this week by wearing red to symbolize the passion of Argentina culture. Gentlemen, a fedora will make you look like a distinguished tango dancer.
As as added bonus, each week we'll be rewarding a planner who goes 'all-in' on the theme with goodies from Maui Jim. So engage, be creative, and have fun!
Argentina Highlights
Look forward to these exciting elements of next Wednesday's 'virtual trip'.
One of the most geographically diverse countries in the world, with endless possibilities to provide for Meetings & Incentives. From the cosmopolitan city metropolis of Buenos Aires, home of its traditional dance "the tango," to the magnificent plains of the pampas and its gaucho culture; from the rich Mendoza wine country to the vast mountain ranges in Patagonia, the glaciers, the subtropical forests or the famous Iguazu National Park (a UNESCO world heritage site since 1984). These countless natural resources, culture, folklore, the adventure and activities to explore offer continual possibilities and a lifetime experiences for MICE groups.
Key Destinations: Buenos Aires, Iguazu Falls, Salta, Mendoza, Patagonia, Bariloche, Calafate, Ushuaia, Puerto Madryn, Ibera Wetlands.
MALBEC TASTING
The first thing to do (now!) is to order your Malbec wines for our live tasting with Pablo Piccolo, US Export Manager for Bodega Catena Zapata Vineyards. Here are the two wines we'll be tasting. These wines have two price points, so choose whatever suits you (or simply join us and enjoy any Malbec from Argentina!) Click on the links to order from Wine.com.
Catena Malbec - $20
Catena Alta Malbec - $44
We'll visit Mendoza and the internationally renown Wine Road during this segment.
BUENOS AIRES
Buenos Aires is one of the largest cities in the world. It is also the most elegant and cosmopolitan city in South America, which represents the Argentine essence. In spite of its modern construction and dynamic activity, it manages to preserve old traditions and charming corners. Visitors are fascinated by its environment, the individuality of each of its neighborhoods, the cordiality of its people, and its wide selection of cultural and shopping opportunities. The city has important museums as well as numerous cultural centers and art galleries.
ENJOY A TANGO SHOW!
Tango started by the end of the 19th century as a mix of various rhythms danced in the poorest quarter by immigrants, who added their nostalgia and melancholy. Enjoy an unforgettable evening attending the most famous Tango Show.
IMMERSE YOURSELF IN ARGENTINIAN CULTURE
Before our video conference, enjoy a sampling of Argentinian culture. The Argentine film and music industries are some of the most avant garde in Latin America.
Movie Suggestions:
The Motorcycle Diaries / Diarios de motocicleta (2004)
The Clan / El clan (2015)
The Secret in Their Eyes / El Secreto de Sus Ojos (2010)
Son of the Bride / Hijo de la Novia (2002)
Wild Tales / Relatos salvajes (2014)
Evita (1996)
Playlist - Artists:
Fito Páez
Fabulosos Cadillacs
Soda Stereo
Bandalos Chinos
El Zar
Delfina Campos
This video is one of Patricia Sahin's own instructional cooking videos, by the way! Visit her website for even more spicy recipes.
The Flavor Of Argentina - Empenadas
Be adventurous! These delicious stuffed dough pastries are a signature staple of Argentinian street food. The most common filling is minced or sliced-by-hand beef, seasoned with cuminand onion. Other varieties may be stuffed with chicken, cheese, sweet corn, vegetables or ham.
Try making them at home and enjoy with us during our visit to the streets of Buenos Aires.
INGREDIENTS
Filling:
olive oil
21 oz onion (double the beef weight) (600 gr), chopped
1 red capsicum, cut into cubes
1 tsp chili flakes
1 tbsp cumin powder
2 tbsp sweet paprika
1/2 cup white wine
10.5 oz minced beef meat (300 gr)
3/4 cup green part of spring onion, chopped
3/4 cup green olives, roughly chopped
1/2 cup parsley, finely chopped
3 hard boiled eggs
salt to taste
black pepper to taste
Dough:
3.5 oz unsalted butter (100 gr), room temperature
1 egg , room temperature
2 tsp salt
3-3/4 cups bread flour plus 1 -1/2 tbsp more (500 gr)
2 tbsp olive oil
1/2 cup warm water plus 1 tbsp + 2 tsp more (150 ml)
COOKING INSTRUCTIONS
Make the filling:
Using low medium fire, heat some olive oil in a pan, add in the onion and a pinch of salt and cook for 10 minutes until they're a bit soft. Add in cubed red capsicum and continue cooking for 20-30 minutes until they're really soft, stirring frequently.
Add in chili flakes, sweet paprika and cumin, cook for 1 minutes until the powdery taste is gone. Add in wine and cook for 30 seconds until the alcohol evaporates. Add in minced beef, salt and black pepper. Cook just until the beef is almost done. That's going to ensure juicy empanada later. Put in a container and aside to cool.
Once cooled, add in chopped spring onion, olives, parsley and give it a good mix. Sprinkle chopped eggs on top and keep in the fridge for 2 hours before using.
Mixing the Dough:
In a stand mixer bowl and using a paddle attachment, add in butter and whisk until fluffy. Add in egg and mix until well combined. Add in salt and 1/3 of flour. Whisk to combine and keep adding 1/3 of flour, mixing well to combine each time.
Switch to dough hook. Add in oil, water and knead for 10 minutes. Form dough into a ball, place in a container, cover with cling film and leave to rest in the fridge for 2 hours. Take out 15 minutes earlier before using.
Making the empanadas:
Take out the dough and divide into 20 balls. Place the balls in a container to make it easier. Keep them covered with cling film while using to prevent them getting dry.
Take one ball and roll it out with a rolling pin to a more or less hand size. Put 1 tbsp filling on top, fold the dough. pinch the seam to seal and climp all the way around. Repeat the same for the rest of the balls. Place them on a baking tray with baking sheet.
Bake at 375°F in a preheated oven for 20-30 minutes or golden brown and fully cooked.
Serve hot and eat with precaution.
Kelly McAlister, Maui Jim
Kelly McAlister of Maui Jim will be with us on the calls each week as judge and jury to see which planner really goes all-in with the theme. So engage, be creative, and have fun... and you may be the winner!
She'll be doing some gifting that will surely lift your shelter-in-place spirits!