This week we are 'traveling' (virtually) to another fantastically exclusive paradise, and we take the word fantastic literally:
extraordinarily good or attractive.
imaginative or fanciful; remote from reality.
The place to which we're traveling is both extraordinarily attractive and remote from reality - Necker Island, Sir Richard Branson's private island paradise. This is barefoot luxury in a setting that's just about as exclusive as it gets. Necker Island is located in the Caribbean in the beautiful and unspoiled British Virgin Islands.
Lyndsey Balog, Regional Sales Executive with Virgin Limited is back and will be sharing our hammock as we sip and saunter through this island getaway.
Our dress this week is, you guessed it, your island best, but in the most barefoot, chillaxical (yes, we made up that word) kind of way. Think 'beach hair, don't care' this week... flip flops are a must, as is the most laidback cocktail you can prepare alongside a skewer of grilled shrimp, perhaps? Caftans and bathing suits? Well, of course! Espadrilles, sundresses, shorts and sandals - this is as casual as one can be, darlings, on one's own private island.
This week, the first five planners to log into the call (no earlier than 3:55pm) will win a special gift from Retreats Resources.
As an added bonus, each week we'll award a planner who goes "all in" a special gift from Kelly McAlister with Maui Jim.
Lyndsey Balog
I love my job because not only do I get to represent these stunning properties in various locations around the world, but Sir Richard Branson has done such a wonderful job to help the communities surrounding these beautiful locations.
Each of the properties work on different projects to support local communities and encourage guests to get involved. Additionally, it's important to Virgin that luxury doesn't have to come at the expense of sustainability. The entire team at Virgin Limited Edition works around the clock to ensure one doesn't compromise the other and that shines through tremendously.
When she's not talking about their collection of hotels and retreats, you'll find Lyndsey planning her next adventure or unwinding at the yoga studio. If you're based in the Midwest, Northeast, Texas and the Carolinas, or simply have questions regarding the stunning Virgin Limited retreats, Lyndsey is more than happy to assist.
65 Bleecker Street, 6th Floor
New York, NY 10012
T: +1 (914) 610-5288
F: +1 (212) 497-9051
E: This email address is being protected from spambots. You need JavaScript enabled to view it.
W: www.virginlimitededition.com
Connect on LinkedIn
Necker Island
From the first moment Sir Richard Branson visited the stunning Necker Island in 1978 he had a vision, one that has resulted in one of the world's most exclusive island retreats.
Play the video about Necker's history (so far!). Do yourself a favor, and watch this video.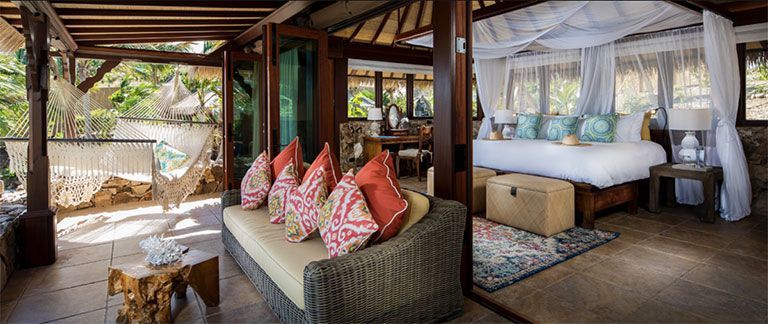 ACCOMMODATIONS
The spacious al fresco Balinese house boasts amazing panoramic views of the Caribbean, the Atlantic and neighboring islands. Each of the 11 guest rooms in the Great House has a balcony and all come with king-size beds and en-suite bathrooms. There's also a bunk room sleeping up to six children. On the upper level you'll find the stunning Master Suite, complete with private outdoor hot tub and sundeck.
ISLAND INFO
Situated in the tropics, the weather in the British Virgin Islands is hot and fairly humid throughout the year so it's best to dress for the heat. Unless a specially-themed event has been organized for your stay or you prefer to dress up for dinner, there is no need to bring dressy clothes and beachwear is just fine anywhere on the island.
DINING
Dinner at the Great House is a revelation with a variety of themes to make each night unique. Meet at the bar for cocktails and head up to the roof terrace where dinner will be served while you watch the sun set.
Or head over to the Beach Pavilion: on the upper level of the Beach Pavilion is a huge dining table that can seat up to 40 guests at any one time with views overlooking the tennis courts to one side and the ocean to the other.
Of course, Turtle Beach is a great option for lunch or dinner - we usually organize a sailing race around the island which ends at Turtle Beach for a drink and either a picnic style or BBQ style lunch.
If you fancy an afternoon activity the nearby reef promises some great snorkelling opportunities. And who doesn't love a good floating sushi bar? (See photo in the 'Zoom photos' below). They offer a very unique twist to the traditional sushi bar and serve the sushi in a floating kayak filled with ice and decorated with beautiful flowers! The chefs float the kayak down the Beach Pool and are there to tell you what decadent rolls and sashimi they have prepared.
THE PAINKILLER
Created in the 70's by the owner of the Soggy Dollar Bar, the Painkiller has become synonymous with the BVI's (and Necker Island).
Here's how to make it:
1 3/4 oz Mount Gay rum
1 3/4 oz pineapple juice
1 3/4 oz orange juice
1 1/4 oz Coco Lopez
1/2 oz Pussers Rum
Fill cocktail shaker with ice, add all ingredients. Shake and strain over fresh ice in a tall glass. Garnish with grated nutmeg and an orange slice.
Then turn your keys over to someone responsible.


THE PROPERTY
Perched at the island's highest point, the Great House is where people come together, to dine, party or just relax. The house has a wraparound terrace with hammocks and sofas, and this being Necker Island, naturally you can expect a fully stocked bar. Up on the roof you'll find a cozy four-person hot tub – perfect for sipping champagne as you watch the sun set. In addition to the Great House, there is the Beach House, Bali Hi and Bali Lo, each serving their own purposes on the island.
On Necker Island, the service style means always being professional and authentic, and constantly searching for new ways to improve the guest experience. Taking care of the environment is also high on the agenda. Necker Island is committed to sustainable development and respecting the local community and environment in which it operates.
GET INTO THE VIBE
We're quite sure that in the midst of our quarantining, we don't need to provide much inspiration to want to travel to this lush paradise, but in case you need just a little push...
Good read:

Finding My Virginity autobiography by Sir Richard Branson. We've linked to the Audible book so you can listen, or go 'old school' and buy the book itself.

Good eats:

Recipes for a delicious smoothie and healthy, gluten-free energy bars directly from the resort.

Good grooves:

the official Necker Island 'Cocktails at the Great House' playlist on Spotify. There are also playlists for chilled house music, dance party, Richard's playlist, and one called simply, 'Arrivals' with the description: Songs to settle you into the Necker way of life.

Yes, please.
Virtual backgrounds for you for our Zoom call, provided by Virgin Limited Edition - Necker Island.

Kelly McAlister, Maui Jim
Kelly McAlister of Maui Jim will be with us on the calls each week as judge and jury to see which planner really goes all-in with the theme. So engage, be creative, and have fun... and you may be the winner!
She'll be doing some gifting that will surely lift your shelter-in-place spirits!