This week we are traveling (virtually) to one of the most exotic locales we've enjoyed so far during our Wednesday retreats - the Mahali Mzuri luxury tented safari camp in Kenya, Africa – part of the Virgin Limited Edition of luxury retreats and hotels!
With a ringside view of some of the most awe-inspiring African wildlife you'll ever witness, Mahali Mzuri is Sir Richard Branson's 12-tented camp situated in the private Olare Motorogi Conservancy in the wider Maasai Mara ecosystem.
Lyndsey Balog is the Regional Sales Executive who's going to be our guide on our Sofa Safari. The name Mahali Mzuri means 'beautiful place' in Swahili, and we know you'll agree!
"When you think of going on safari in Kenya, one of the first things that comes to mind is the Great Migration. Words just can't do justice to the majesty of this awe-inspiring spectacle. I hope you enjoy your Kenyan adventure as much as I always do."
Our dress this week is, you guessed it, safari. Grab your khaki best, your pith helmet, your binocs or camera, and join us for our couch caravan through the African bush. But don't forget this is a Virgin Limited Edition resort! So perhaps you channel your best Meryl Streep, Out of Africa style?
This week, the first five planners to log into the call (no earlier than 3:55pm) will win a special gift from Retreats Resources. Maasai what?! That's right!
As an added bonus, each week we'll award a planner who goes "all in" a special gift from Kelly McAlister with Maui Jim.
Kenya government has lifted the lock down on July 6, with international flights scheduled to resume on August 1, 2020.
Lyndsey Balog
I love my job because not only do I get to represent these stunning properties in various locations around the world, but Sir Richard Branson has done such a wonderful job to help the communities surrounding these beautiful locations.
Each of the properties work on different projects to support local communities and encourage guests to get involved. Additionally, it's important to Virgin that luxury doesn't have to come at the expense of sustainability. The entire team at Virgin Limited Edition works around the clock to ensure one doesn't compromise the other and that shines through tremendously.
65 Bleecker Street, 6th Floor
New York, NY 10012
T: +1 (914) 610-5288
F: +1 (212) 497-9051
E: This email address is being protected from spambots. You need JavaScript enabled to view it.
W: www.virginlimitededition.com
Connect on LinkedIn
Mahali Mzuri
A safari fit for a (lion) king... or at least your VIPs. That's what you'll discover at the over-the-top tent camp of Mahali Mzuri. Included in every stay:
Daily game drives and game drives at night, as well
All meals and drinks (including alcoholic beverages)
Unlimited access to the exclusive Olare Motorogi Conservancy
Transfers from the Olare Orok airstrip (25-minute drive from camp)
Visits to the local markets
Complimentary wireless internet available throughout the camp
Laundry service (dry cleaning not available)
All taxes and local levies
YOU MIGHT SAY IT'S ELEPHANTASTIC
With twice-daily game drives led by expert guides, and 12 luxurious tented suites that look out onto some of the world's most stunning scenery, Mahali Mzuri offers a truly inmate experience amidst an astonishing natural spectacle.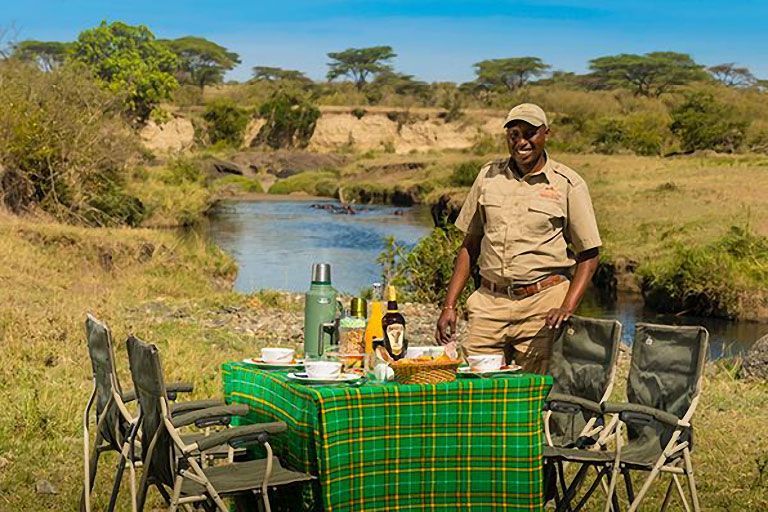 DINING
The Mahali Mzuri chefs have developed numerous pan-African dishes influenced by a variety of cultures, flavors and spices. Whether dining under the African sky in the open bush, on a deck or in the dining tent, their menus and meals promise to be exciting, social and inspirational.
THE WATERING HOLE
It wouldn't be a world-class Virgin Limited Edition property without a bar, now would it? During our Wednesday tour, Lindsey's team will be taking us through a bespoke cocktail of the resort!
Cocktails, Of Course
At Mahali Mzuri, all meals and drinks including alcohol and their finest champagne are included in your stay and guests are welcome to help themselves to whatever they want at any me. Until we all drive up in our Jeeps for our own safari, we'll just have to imagine sipping one of these on the deck of our fantastic tent. Cheers!
African Sunrise
3 oz. Kenyan or Ethiopian coffee, hot
2 oz. grapefruit vodka
1 oz. sparkling water
½ oz. simple syrup
Ice cubes, one large ice sphere or whiskey stones
THIS LODGING IS
IN-TENTS
In between the twice-daily game drives, enjoy some rest and relaxation in your own individual tented suite. Each of the 12 tents comes complete with a private deck overlooking the stunning plains, so you'll have a front row seat to the wildlife from the moment you wake up until falling asleep at night.
The leopards of the Mara can be notoriously difficult to find, but at Mahali Mzuri they are practically part of the family! Tito, the ruling leopardess in the area, has her second set of cubs. Looking over the swimming pool deck on a sunny morning, you might just be lucky enough to see the young brother and sister playing amongst the rocks.
GET INTO THE VIBE
Africa has inspired the hearts and creativity of so many artists, it's easy to find something that will put you in the mood for our call. Here are just a few:
Out of Africa - Meryl Streep and Robert Redford? Come on, it doesn't get much better.
The African Queen - Katherine Hepburn and Humphrey Bogart. Ok, maybe it does.
The Lion King - if you haven't seen this live-action animated classic, it's time, darlings.
The Boy Who Harnessed the Wind - a true story, inspiring, beautifully told.
And some music for you, too:
Virtual backgrounds for you for our Zoom call, provided by Virgin Limited Edition - Mahali Mzuri!

Kelly McAlister, Maui Jim
Kelly McAlister of Maui Jim will be with us on the calls each week as judge and jury to see which planner really goes all-in with the theme. So engage, be creative, and have fun... and you may be the winner!
She'll be doing some gifting that will surely lift your shelter-in-place spirits!