They had us at, "You see, there's beautiful, and there's Santa Barbara." What a gutsy, definitive phrase to describe this coastline locale, no? There are seaside escapes. Then there's a gentle crescent of California coast connecting breathtaking beaches, soaring mountains, verdant vineyards, elevated enclaves and eclectic communities. If you don't believe us, watch their video.
Come with us as we discover this gorgeous location and all it offers for incentive travel. 'Cat' Puccino from Visit Santa Barbara will take us on this virtual journey to a destination so regal, Prince Harry and Meghan Markle now call it home.

So what else could we do for a place befitting a Prince, than to theme this week in a regal way?! Bring out your best queenly or kingly outfit, or cap yourself with a crown, take charge in a tiara, you're perfect as a princess or prince. Duke (Duke, Duke, Duke) of Earl? Dandy. We won't discount a Viscount, either. Let's have a royal salute to America's Riviera!
And remember, the first five at 3:55 to log into the call (no earlier than 3:55pm) will win a special gift, and Kelly McAlister will be on hand to gift someone with a fresh pair of Maui Jims! By the way, have you seen the new Maui Jim styles and lenses? Stunning!
Giveaway this week!
Cat Puccino with Visit Santa Barbara is rewarding the planner who goes 'all-in' with this week's theme the following regal prize package!
Relax and Restore on The American Riviera® compliments of Visit Santa Barbara. Package includes:
two nights' lodging
$500 credit towards airfare into Santa Barbara Airport
choice of activities ranging from Whale Watching Tour, Wine Country Excursion or Coastal Kayaking
So, don't just tune in this week, throw on your regal best and get into the theme - you just might be heading to Santa Barbara soon!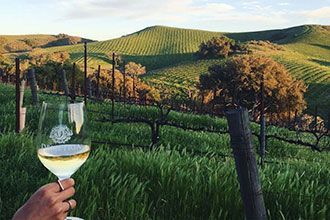 Our Host
Catherine 'Cat' Puccino
E: This email address is being protected from spambots. You need JavaScript enabled to view it.
500 E. Montecito Street
Santa Barbara, CA 93103
Phone: 805-966-9222
Mobile: 805-448-7870
Connect on LinkedIn
I have the pleasure of living in the city of Santa Barbara and representing this amazing and unique Coastal California destination. It is so much fun sharing the Santa Barbara life style with planners and colleagues. Planners are pleasantly surprised by the diversity of properties, activities, attractions, arts, culture, wineries and culinary experiences.

ACCESSIBILITY: Located 90 miles/148 km north of Los Angeles and 310 miles/534 km south of San Francisco, Santa Barbara is easily accessible via plane (Santa Barbara Airport), car or Amtrak. Visitors may arrive via scenic Highway 1 (101), daily stops on Amtrak.
Santa Barbara
Santa Barbara, CA - Where the sea and mountains feel as one, the sun feels more golden, and the valleys overflow with a bounty of color. Discover what Santa Barbara has to offer, from exhilarating outdoor adventure to fascinating arts and culture to an incredible variety of local food and wine.
A WORLD APART
Webster could run out of adjectives trying to describe Santa Barbara. Seductive, playful, romantic, gorgeous, easygoing, relaxed, sophisticated, cultured, friendly, peaceful, re-energizing and invigorating are just a few descriptors that come to mind. Oh, and habit-forming — just ask anyone who's been here.
Day-trippers want to spend the night. First-time visitors vow to return. Tourists dream of relocating their lives here — and some do. Longtime residents stay forever. Some Angelenos (Los Angeles residents) even leave a boat moored in the Santa Barbara Harbor, to keep a toe in local waters, so to speak. No one ever wants to say goodbye.
Located just 90 miles from Los Angeles, Santa Barbara is a world apart, a soothing realm of distinct and subtle pleasures, and an intoxicating appeal that arises from a convergence of elements found perhaps nowhere else in the world. A city characterized by Spanish Colonial Revival architecture, with white- washed buildings with red-tile roofs tucked between the mountains and the sea, Santa Barbara resonates with an irresistibly sensuous allure. Casual and friendly, it also offers an extensive menu of sophisticated cultural attractions ranging from theater and dance to music and visual arts, reflecting a cultural richness out of proportion to the city's small size.
HERE COMES THE SUN
The sun shines 300 days a year there, making Santa Barbara a mecca for every kind of outdoor pursuit. It is a place where the land yields organic fruits and vegetables, sold at farmers markets for every day of the week, and where these exquisite ingredients fuel an idiosyncratic cuisine accompanied by superb Santa Barbara County wines — world-class vintages from the world's most diverse viticultural region. About 36 tasting rooms are located in downtown Santa Barbara.
IT STARTED WITH A MISSION
The Franciscans built 21 missions in California, including Old Mission Santa Barbara, known as the "Queen of the Missions." After coming under Mexican rule for 24 years, Santa Barbara became a U.S. territory in 1846, two years before California was added to the Union.
Half a century later, Santa Barbara had evolved into the pre-Hollywood capital of the silent-film era, the back lot by the sea where more than 1,200 movies, mostly Westerns, were produced during a 10-year period. After such legendary film stars as Douglas Fairbanks, Jr., Mary Pickford and Charlie Chaplin made Santa Barbara their playground, the coastal hamlet became a haven for wealthy Easterners and a hot spot for health-seekers lured by the area's mineral baths. Rockefellers, Vanderbilts, Carnegies and Duponts arrived via luxury rail car. In their wake came painters, poets and authors who took the first steps toward making Santa Barbara the art colony it is today.
With only 91,000 residents, this small city exudes the warmth and friendliness of its size while offering the kind of major attractions and world-class accommodations usually reserved for a major metropolis.
It's cocktail time!
Enjoy this cocktail while we 'visit' Santa Barbara.
THE LARK
Ingredients
1 medium orange
½ ounce (1 tablespoon) fresh pink grapefruit juice
½ ounce (1 tablespoon) Campari
6 ounces chilled Prosecco (spumante)
Method
To make orange twists, slice the orange into quarters. Use a sharp knife to remove the flesh and pith from one quarter. Cut into even strips one-fourth-inch wide. Alternately, you can use the wide setting available on some zesters, or use a channel knife on the whole orange. Set aside.
In a cocktail shaker, combine the grapefruit juice and Campari. Fill with ice and shake until well chilled. Strain into a flute glass and top with Prosecco. Twist one orange strip over the drink and drop into the glass.
SUNNY CITIES, SUNNY OUTLOOK
Santa Barbara's South Coast is made up of the sunny cities of Santa Barbara and Goleta, as well as the communities of Montecito, Goleta and Summerland. Ever since the turn of the 20th century, Montecito has been cultivating a well-deserved reputation as an enclave of grand estates owned by the rich and famous. The Montecito Inn, founded by Charlie Chaplin, at the end of Coast Village Road, is still a favorite, along with the fine restaurants and chic shops that line the eucalyptus-shaded drag. The elegant Spanish-Moorish Four Seasons Resort The Biltmore Santa Barbara continues to romance guests from its prime oceanfront location, and the San Ysidro Ranch remains a choice destination for lovers and others following in the steps of John and Jacqueline Kennedy, who honeymooned there. More recently, Oprah paid $50 million for the Montecito estate that serves as her West Coast headquarters.
Some virtual backgrounds for you to use on our Zoom call, provided by Visit Santa Barbara
Kelly McAlister, Maui Jim
Kelly McAlister of Maui Jim will be with us on the calls each week as judge and jury to see which planner really goes all-in with the theme. So engage, be creative, and have fun... and you may be the winner!
She'll be doing some gifting that will surely lift your shelter-in-place spirits!