Real-Time Retreats
Everything's Coming Up Roses!
Rosewood Hotel Group is Blossoming!

This week, we'll visit again with Rosewood Hotels and discover a global collection of one-of-a-kind luxury hotels and resorts, each inspired by their A Sense of Place® philosophy to reflect the local culture and spirit of a destination. The result: travel experiences that are authentic, original, and deeply personal.
Specifically, we'll take a whirlwind tour of Rosewood Hotel Georgia in Vancouver, Rosewood Le Guananhani in St. Barth (opening in October), and Rosewood Villa Magna in Madrid. What a truly yummy group of destinations to peruse this Wednesday!
Every week we make things a little more playful by asking our call participants to go all-in with our theme. This week's theme is 'Everything's Coming Up Roses!' so anything goes as it pertains to roses, flowers in general, gardening or even representing your favorite flower's colors! Dress in your favorite gardener's gear, wind some vine around yourself, wear some flowers in your hair (flower hair, don't care)! Or is a little 'fruit and veg' more your gardening style? How about donning all of the colors of your favorite flowers? And of course, roses are de rigueur for this theme!
What happens when you go 'all-in' with the theme? Why, you're in the running for a fabulous prize from our hosts at Rosewood Hotels, of course, and we're not dande-lyin! You'll be vying for a 2-night stay at the gorgeous Rosewood Hotel Georgia! So, Petal, 'dig' into your closets and do your best. You can always say you rose to the occasion.
And remember, the first five at 3:55 to log into the call (no earlier than 3:55pm) will win a special gift, our own 'bud' Kelly McAlister will be on hand to gift someone with a fresh pair of Maui Jims!
Jennifer Jones
P: +1-561-602-3717
E: This email address is being protected from spambots. You need JavaScript enabled to view it.
www.rosewoodhotelgroup.com/en-us/
Connect on LinkedIn
Jennifer Jones is Director of Global Sales at Rosewood Hotel Group managing key meeting, incentive and corporate travel accounts in the Eastern US. Jennifer joined Rosewood in 2018 after a 15+ career with Four Seasons Hotels & Resorts and also spent time as an independent contractor in the cruise industry. Her first job in the hospitality industry was as an intern, at a small family run resort in the Caribbean. Jennifer is a native Midwesterner, spent many years in NYC and came to South Florida in 2015. Jennifer loves spending time with her 10 year son; and enjoys staying healthy with runs or bike rides in the neighborhood (and starting to get back into barre class). When it's time to relax, Jennifer can be found on the beach reading or catching up with friends and family over a glass of wine.
What I love about my job: Best product, best colleagues, best clients! Being a Classic Type A, tend to gravitate towards what's most excellent.
What I love to do in my spare time: Grown to really like exercise (30 minutes max), hanging out with my son (more so since covid), and cocktail hour with friends (always).
Thibault Asso
E: This email address is being protected from spambots. You need JavaScript enabled to view it.
www.rosewoodhotelgroup.com/en-us/
Connect on LinkedIn
Over 20 years of experience in the hospitality industry (Operation and Sales and Marketing) all around the world (Monaco, Scotland, French Polynesia, Caribbean, USA), including 15 years at a management position. I am a people person with a passion for the service industry.
Tina Gassert

Rosewood Hotel Georgia
Vancouver, British Columbia - Rosewood Hotel Georgia combines the grandeur of the Roaring Twenties with contemporary design in the heart of Vancouver. The Forbes Five-Star hotel has been meticulously restored to its place as one of the most prominent hotels worldwide.
HISTORICALLY SPEAKING...
First opened in 1927, Hotel Georgia quickly became known as Vancouver's most fashionable retreat. Following an extensive renovation in 2011, it reopened as Rosewood Hotel Georgia. The hotel now features 156 elegant rooms and suites that flawlessly combine legacy, grandeur and luxury with charming ambience in a landmark location.
Featured is the tantalizing Prohibition bar, draped in sensuous turquoise.
EVERYTHING OLD IS NEW AGAIN
Entirely renovated to restore old world craftsmanship, integrate the latest technology and introduce luxurious furnishings, Rosewood Hotel Georgia epitomizes the legendary grandeur of its roaring '20s debut and the golden age of hotel travel.
Rosewood Hotel Georgia is consistently recognized as one of the best places to stay by some of the world's leading travel organizations and magazines.

Rosewood Le Guanahani
St. Barth, French West Indies - Rosewood Le Guanahani St. Barth is a haven of casual luxury, comfort and elegance, cherished for its authentic reflection of the islands. Within this captivating landscape, vibrantly hued guest cottages are scattered along garden paths that wind through lush bougainvillea, hibiscus, and palms beside the sweeping beaches and reef-protected lagoon. The charming boutique resort offers two pools, the restorative Sense, A Rosewood Spa, an array of watersports, a fitness center, a tennis court, and the engaging Rosewood Explorers children's club. The resort's elegant restaurants and bars offer freshly prepared, refined cuisine presented with unobtrusive service in stunning settings.
IRRESISTIBLY ROSEWOOD
Set on St. Barth's most irresistible private enclave, Rosewood Le Guanahani is spread out over 18 secluded tropical acres on its own peninsula. Emphasising the island's French Caribbean heritage by way of a palette of turquoise, yellow and lavender – nodding to the ocean, tropical sun and south of France florals – the new-look scheme is joined by amenities including private pools, a Rosewood signature spa and beachfront dining.
A VARIETY OF VIEWS
Spread throughout its lush tropical landscape, Rosewood Le Guanahani St. Barth will offer 66 charming and distinctive accommodations, including 29 rooms, 27 suites and 10 signature suites. Energized with the bright and festive colors of the Caribbean, the resort's newly refreshed guestrooms will offer all the contemporary comforts of a modern luxury resort, while remaining true to their beloved heritage and island sensibilities. All accommodations will offer a private, furnished terrace for outdoor enjoyment, while the signature suites include exclusive personalized services.

It's cocktail time!
Enjoy this cocktail while we 'visit' the stunning Rosewood properties.
ROSE WATER GIN COCKTAIL
Ingredients
1 oz fresh squeezed lemon juice
1 oz rose water simple syrup (see how to make below)
2 oz gin
splash club soda
Method
Add 1 cup water and 1 cup sugar in a small pot and simmer until sugar is dissolved. Let it cool and add in 1 teaspoon rose water extract.
Store the simple syrup in the refrigerator. If you're serving right away add rose petals to the simple syrup for a beautiful presentation.
In a cocktail shaker filled with ice, pour in the gin, lemon juice and simple syrup and shake for more than 20 seconds so the ice can melt and dilute the ingredients.
Add a splash of club soda if you prefer!
Strain over a large ice cube and garnish with a lemon twist and rose petal.

Rosewood Le Guanahani
Madrid, Spain - Long esteemed for hosting discerning travelers, this distinctive hotel is being thoughtfully refurbished to an elevated level of luxury, contemporary style, and modern amenities. Reopening as Rosewood Villa Magna in 2021, the hotel is an inspired base for international travelers in an incomparable location within the very heart of Madrid.
Originally opened in 1972, Rosewood Villa Magna has been lovingly restored to the finest standards of modern, elegant style. Reopening in 2021, the hotel welcomes guests to luxurious comfort and thoughtful hospitality evoking a stay in a gracious family home.
HELLO, MADRID
Santa Barbara's South Coast is made up of the sunny cities of Santa Barbara and Goleta, as well as the communities of Montecito, Goleta and Summerland. Ever since the turn of the 20th century, Montecito has been cultivating a well-deserved reputation as an enclave of grand estates owned by the rich and famous. The Montecito Inn, founded by Charlie Chaplin, at the end of Coast Village Road, is still a favorite, along with the fine restaurants and chic shops that line the eucalyptus-shaded drag. The elegant Spanish-Moorish Four Seasons Resort The Biltmore Santa Barbara continues to romance guests from its prime oceanfront location, and the San Ysidro Ranch remains a choice destination for lovers and others following in the steps of John and Jacqueline Kennedy, who honeymooned there. More recently, Oprah paid $50 million for the Montecito estate that serves as her West Coast headquarters.
FLAWLESS COMFORT
Warmth and hospitality grace every aspect of Rosewood Villa Magna's accommodations—from their chic aesthetic and understated elegance, to the flawless comfort of the furniture and bedding, to the fine amenities that contribute to a seamless stay. Each of the 154 guestrooms and suites are a calm haven of understated luxury and cosmopolitan surroundings in the vibrant core of the Spanish capital.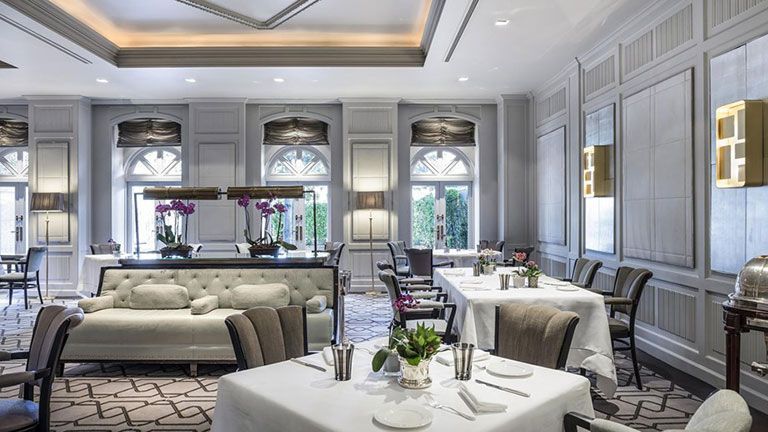 YOU GROW, GIRL!
Each week, we attempt to provide you some things that will set the mood for our upcoming visit. We're in the mood for flowers this week, and here's what has inspired us.
68 songs about flowers. Why 68? We'll never know, but they did a pretty good job with this list.
Edible flowers. If you've never added these to a salad or at least a cocktail, you don't know the 'wow' factor you're missing.
34 native plants to North America.
Are we the only ones who take these quizzes? If I were a flower, what kind would I be? (Of course, there's always the If I were a comfort food, what would I be? quiz, which is far more fun, don't you think?) Pretty sure we're mac 'n cheese.
How to keep potted plants alive. And just for kicks, Stayin' Alive by the BeeGees.
Some virtual backgrounds for you to use on our Zoom call, provided by Rosewood Hotel Group
Kelly McAlister, Maui Jim
Kelly McAlister of Maui Jim will be with us on the calls each week as judge and jury to see which planner really goes all-in with the theme. So engage, be creative, and have fun... and you may be the winner!
She'll be doing some gifting that will surely lift your shelter-in-place spirits!