Ok, darlings, buckle in for an exciting trip to Puerto Rico, where not only are we invited to the virtual party, they want us to sip and dance!
Our delightful tour guides will be Fred Edson of Discover Puerto Rico, Jomarie Arturet with the Hyatt Regency Grand Reserve Puerto Rico, and Brenda Sastre (Director of Sales) and Sandra Totti (Director of Experiences), the two owners of Innovation DMC.
We'll enjoy a mojito mixology session, a grand tour of the resort, an overview of the island of Puerto Rico, and... hold your hats, a salsa lesson! Yes, we will be dancing. So clear out some space in your home office, or move your laptop into your home ballroom ;) and be ready to sway and swerve!
Bring your 'A game' this week by wearing your best resort chic attire or salsa dress, lovelies, because you're not going to believe what the prize package is!
2 airline roundtrip tickets (up to $500)
3 nights/4 days complimentary with a $200.00 Resort Credit at the Hyatt Regency Grand Reserve Puerto Rico
2 complimentary VIP ground transportation
Plus, the first five planners to log into the call (no earlier than 3:55pm) will win an early bird gift.
And as an added bonus, each week we'll award a planner who goes "all in" a special gift from Kelly McAlister with Maui Jim.
Jomarie Arturet
A Puerto Rican, born and raised in the "Island of Enchantment" with over two decades in the Hospitality Industry.
What Jomarie enjoys most of her profession is cultivating relationships with a smile, and a humble heart; at the same time, she is tenacious to the bone when it comes to delivering successful programs for all of her clients. Recognized in 2016 as one of the Top 40 Under 40 Business Leaders and Women Who Lead in Puerto Rico.
Jomarie joined the Hyatt Regency Grand Reserve Puerto Rico in 2019 as part of the opening team to develop the MICE market for the Southeast Region US, Caribbean, and Europe. Hyatt resorts hasn't had a luxury presence in Puerto Rico for over 20 years.
Hyatt Regency Grand Reserve Puerto Rico
200 Coco Beach Boulevard
Río Grande, PR 00745
T. +1 (787) 239-4268
This email address is being protected from spambots. You need JavaScript enabled to view it.
hyattregencygrandreservepuertorico.com
Connect on LinkedIn
Fred Edson
Fred is responsible for the development of the incentive market for Puerto Rico. He combines his past experience representing resorts in Puerto Rico and other Caribbean destinations with his extensive background in the incentive meetings industry.
Fred is highly engaged within the incentive meetings industry as a destination liaison, regularly communicating Puerto Rico's many benefits and enticements to MICE specialists everywhere! As Puerto Rico evolves into one of the most exciting incentive meeting destinations in this hemisphere, it is of utmost importance to him to collaborate with his clients on a daily basis and provide an enhanced level of service that is unmatched.
Discover Puerto Rico
500 Calle De La Tanca
Ochoa Building, Suite 402B
San Juan, PR 00901
M: +1 (561) 400-7553
This email address is being protected from spambots. You need JavaScript enabled to view it.
discoverpuertorico.com
Connect on LinkedIn
Innovation DMC
These ladies have arranged a salsa show for us!
Brenda Sastre, Director of Sales, is a highly experienced professional with over twenty years of experience in destination management. She has vast proficiency handling all the aspects of designing and implementing touristic packages, which incorporate tours, transportation, hotels, program logistics and so on.
She is an expert in Puerto Rico starting with hotel accommodation, restaurants, transportation, conference venues, events and activities, meetings and so on and is thus able to design attractive logistics for potential clients.
Sandra Totti, Director of Experiences, is an extremely organized professional with a twenty year background in the successful planning and seamless execution of exceptional meetings and events.
She has managed and directed all aspects of large, complex programs from start to finish, including the planning, organizing, development of ideas, supervision of all logistics and information processes, being physically on site supervising crews and directing activities, and communicating with vendors and customers. She therefore has a proven ability to balance priorities, meet tight deadlines and produce programs of superior quality.
Hyatt Regency Grand Reserve Puerto Rico
A welcome message from the resort:
It's time! Event Professionals, we are ready to welcome your programs to your private, fresh, and recently renovated tropical hideaway. Located on the Northeastern coastline of Puerto Rico, 30 minutes away from the San Juan International Airport.
Discover the Hyatt Regency Grand Reserve, boasting on 72 acres of nature, an exotic oasis that provides a natural experience of the perfect social distancing environment. Rest confidently in one of our deluxe 520 sq ft. oceanfront or deluxe garden view accommodations, all with an integrated Sterile-Air UV Light Purifying System, allowing clean, fresh air to circulate 24/7.
GATHERINGS GALORE
For Gatherings select from an array of venues with a combination of open air terraces overlooking the ocean, tropical lush gardens, or the main Puerto Rico Ballroom of 12,000 sq ft, which includes seamless cutting edge technology with five built-in screens, including a projection wall of 60x29 and suspended audio visual equipment—allowing you to maximize the space with the current Social Distancing protocols.
ACTIVITIES ABOUND
Energize attendees with activities designed around excitement and relaxation; at the new 12,000 sq ft Rainforest Spa, with up to thirteen treatment rooms; Two 18-hole par 72 Championship Golf Course home of the PGA Open in Puerto Rico, or lounge poolside in one of our four swimming pools. Rest assured that all grounds are kept safe and secure with the highest hygiene standards.
Welcome to the perfect retreat in Puerto Rico.
FRED'S BADASS MOJITO
Ingredients
One lime cut into wedges
Fresh mint leaves
Bacardi Silver
Sugar
Soda water
Other items needed
Muddler (or substitute any blunt object such as the handle of a wooden spoon)
Tall glass
Ice
Long stemmed bar spoon (or substitute any tea spoon)
Shot glass
BY THE SEA, BY THE SEA, BY THE BEAUTIFUL SEA
Discover a beachside getaway steps from the water at Hyatt Regency Grand Reserve Puerto Rico, a resort framed against the backdrop of the beautiful El Yunque rainforest. Lounge by the sprawling lagoon-style pool, get a round of golf in at one of the two Tom Kite designed 18-hole championship golf courses, or tour the historic buildings of nearby Old San Juan.
THE HEART AND SOUL OF THE CARIBBEAN
Rich history and culture, exceptional food, pristine beaches, majestic mountains, relaxation, adventure — all packed into one sun-kissed Caribbean paradise. La Isla del Encanto is full of people who are buena gente (which is boricua slang for kind and friendly) and welcoming. Here, you'll feel like you are family instead of just a visitor. Around every corner, you'll find a celebration of life, a vibrant cultural experience, food for the soul, and a captivating rhythm.
SHAKE, RATTLE AND CRIOLLO
Puerto Rico's diverse history reveals a blend of cultures in everything from the delicious cuisine to its music. Spanish, African, and Caribbean influences mean that each dish is a delight, each glass a special flavor, and each dance tinged with the rhythms of a thousand years.
Frankly, we think Puerto Rico is la bomba.

Hot, Hot, Hot! Music and More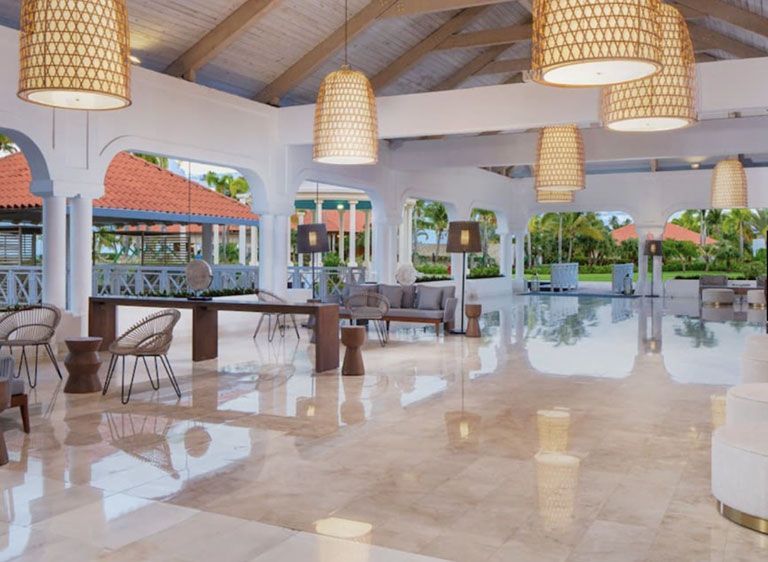 "I can't wait to show you my resort!"
— Jomarie Arturet
Some virtual backgrounds for you for our Zoom call, provided by Hyatt Regency Grand Reserve Puerto Rico and Discover Puerto Rico!
Kelly McAlister, Maui Jim
Kelly McAlister of Maui Jim will be with us on the calls each week as judge and jury to see which planner really goes all-in with the theme. So engage, be creative, and have fun... and you may be the winner!
She'll be doing some gifting that will surely lift your shelter-in-place spirits!