This week we'll travel to the oasis of Greater Palm Springs and discover its history and intrigue, its current-day vibrancy, the unique 9 cities it encompasses, and the venues and vibes that run the gamut from 50's cool to modern posh and everything in between.
Usually for these destination deep dives (as we like to call them) we find resort and area photos that best represent the gorgeous destinations we are visiting, and usually it's pretty easy to pick the best ones. But seriously, darlings, when we combed through the almost 7,000 photos that the Greater Palm Springs CVB gave us access to, we spent hours trying to determine which ones best represented this incredible location. Part of the problem was this: what comes to mind when you think of Palm Springs? It's a dichotomy of landscape and luxe, desert and oasis. Is it an artist colony or a celebrity escape? Mid-century modern, or ornate Tuscan? Yes. Just yes. No wonder it's been a storied destination for over 70 years.
This week, we're harking back in time for a Rat Pack-themed visit to Palm Springs! For the full history of the Rat Pack and how it got its name, click here. Channel your best Dean, Frank, Sammy, Peter or Joey... put on your finest Ava, Janet, Judy, Lena, or Elizabeth. Or simply get hip and swing with your 1950's/60's groovy best!
The planner who goes all-in this week will win a 2-night stay at one of the unique Greater Palm Springs hotels!
And our super-cool Kelly McAlister of Maui Jim will also be on hand to reward someone with a new pair of sunglasses!
We also award the first five at 3:55 to log into the call (no earlier, please!) with a special gift so be sure to be on time!
Greater Palm Springs
Maybe it's the laid-back vibe, the mix of stunning natural features with slick urban offerings, or the fact that it embraces so many different cultures, but there's something very cool about Greater Palm Springs. Set in Southern California's Coachella Valley and bordered by no less than four mountain ranges, this oasis is made up of nine distinct cities: Desert Hot Springs, Palm Springs, Cathedral City, Rancho Mirage, Palm Desert, Indian Wells, La Quinta, Indio and Coachella.
You can be outside golfing one of more than 100 courses, soaking in healing mineral waters or hiking more than 100 trails, or you could spend days indoors exploring historic hotels, cutting-edge museums, designer shopping lanes and outlets, and world-class art from outdoor sculptures to galleries.
OUTDOORS, DONE.
You might call Greater Palm Springs a geological wonder, with date palm-filled valleys, rock formations, mountains and oasis springs. Get a full lay of the land on the Palm Springs Aerial Tramway, which launches you up 4 kilometers to Mountain Station summit. Ride a hot air balloon over the oasis. Head to Joshua Tree National Park and explore 200,000 hectares of wilderness by rock climbing or on a naturalist-guided Jeep tour. At The Living Desert, a zoo and botanical garden, see desert tortoises and Mexican wolves, as well as native flora. Golf to your heart's content – Greater Palm Springs is known as the "Golf Capital of the West" – or try FootGolf, which combines soccer with golf. Visit the BMW Performance Driving School West (only one of two in the U.S.) and hit the test track for an adrenaline-filled experience like no other.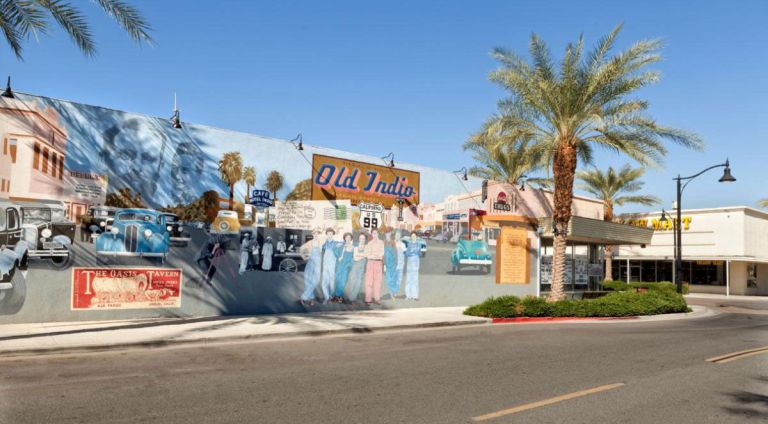 BEAUTY AROUND EVERY CORNER
As much a free spirit as it is a bastion of Old Hollywood glamour, Greater Palms Springs' character is easy to fall in love with. If it's art you're after, dip into the galleries along Palm Canyon Drive. Take a Palm Springs Modern Tour to see the area's midcentury modern architecture (there's more here per hectare than any other place in the world). Tour Sunnylands Center & Gardens, a large midcentury modern estate on a golf course, where world dignitaries and presidents meet. To round out your education in all-things-modernist, visit the Palm Springs Art Museum.
EQUALLY AS IMPRESSIVE
Popular Palm Spring attractions include the Palm Springs Art Museum (the only major art museum between Los Angeles and Phoenix), Palm Springs Air Museum (if you look up and see a World War Two B-17 or B-25, that's where it's headed) and the Palm Springs Aerial TRAM (takes you through four different climate changes on the way to the summit where you will find multiple forest hiking trails).
Palm Springs became legendary as the getaway for Hollywood stars in the 1930s and today features its own Palm Springs Walk of Stars. Many of their lavish homes become available in the historic section of Palm Springs, a stone's throw away from Palm Canyon Drive.
OLD BLUE EYES
A chilly Pineapple Breeze cocktail is all you need to make your afternoon cruising tour a soothing one.
If you have Malibu Rum, pineapple juice and Sprite aboard, you are good to go. And making this cocktail is a breeze, too.
Ingredients
1½ ounce Malibu Rum
¼ cup (2 oz) pineapple juice
¼ cup (2 oz) orange juice
½ can (12 oz) Sprite
1 cup of ice cubes
Method
Put the ice into a 16-oz glass and then pour in the rum, sprite, pineapple juice and orange juice. Gently stir for a few seconds. Garnish with pineapple wedge and lime slice.
PALM SPRINGS VIBES
The history of Palm Springs. Read the quirky tidbit... the paragraph next to the Palm Springs Racquet Club photo.
Thoughts and fashion from the 'Groundhog Day-like' Hulu original "Palm Springs"
The series on the Rat Pack, complete with stories and video.
An excellent version of The Birth of the Blues, conducted by Quincy Jones, with the full cast of the Rat Pack.
Some virtual backgrounds for you for our Zoom call, provided by 
Greater Palm Springs CVB.
Kelly McAlister, Maui Jim
Kelly McAlister of Maui Jim will be with us on the calls each week as judge and jury to see which planner really goes all-in with the theme. So engage, be creative, and have fun... and you may be the winner!
She'll be doing some gifting that will surely lift your shelter-in-place spirits!