Real-Time Retreats
What's New, Pussycat?
Sneak Peak into the Newest Auberge Resorts

You already know the iconic Auberge Resorts Collection brand, with their credo of 'One of a kind experiences in the World's Best Destinations,' but did you know they have added four new resorts to their collection? That's right, two in California - The Inn at Mattei's Tavern (Los Olivos) and Stanly Ranch (Napa), plus the Etéreo (Riviera Maya, Mexico) and Susurros Del Corazon (Punta di Mita)!
With an emphasis on authenticity and exceptional experiences that reflect their surroundings, the Auberge family welcomes these new locations into their fold. We invite you to be some of the first planners to 'experience' them yourselves, albeit virtually!
Since these are all new properties for Auberge and have different locations and vibes, our theme this week is, 'What's New, Pussycat?' Can you dig it? Well, dig deep in your closets and costume boxes for your best 1960's garb, and channel your best character from that era... 'Beatnik' would be boss, a flower-child would be fantastic, a hippie would be honorable, a surfer - stupendous, a housewife, heroic.
Our partner, Maui Jim, is providing a groovy pair of shades for the planner whose costume is the most 'far out!'
Gale McClurkan
972 Redwing Drive
Coppell, TX 75019
M 1.817.773.8374
This email address is being protected from spambots. You need JavaScript enabled to view it.
aubergeresorts.com
Connect on LinkedIn
Gale McClurkan started in hotel sales in 1998. After numerous roles with Ritz-Carlton, she jumped at the chance to join Auberge Resorts Collection as Global Sales Director, representing the entire brand portfolio.
Gale is a native Texan and lives in Coppell, Texas, with her husband, Steve, daughter, Olivia, and son Blake. She is addicted to any sport her kids participate in, as well as a huge fan of the Dallas Cowboys and Texas A&M Aggies.
The Inn At Mattei's Tavern
Los Olivos (Santa Barbara, CA) - Located in Santa Barbara county, Los Olivos is a bucolic town set in the rolling wine country of the Santa Ynez Valley. An 1886 original, Mattei's Tavern is being shepherded into its next generation as a new luxury destination for the 21st century.
WOWING ALL AROUND.
Featuring 67 guest rooms, suites and cottages, the new buildings at The Inn at Mattei's Tavern blend seamlessly with the original 1886 structures, including the main building and the Hartley House, Los Olivos' first home. Walkable to downtown Los Olivos, each of the airy rooms and cottages feature private patios maximizing the surrounding views and California's outdoor style of living.
Stanly Ranch
An unparalleled 100-year history, at the gateway to the Napa and Sonoma wine countries.
On the southern edge of Napa Valley, where the Napa River bank contours with the vineyards of historic Stanly Ranch, Auberge Resorts Collection is setting the stage to introduce Stanly Ranch, Auberge Resorts Collection, a new luxury resort and residential community where an estate winery lifestyle perfectly blends with "new Napa" experiences. Set on 96 acres of the landmark 712-acre Stanly Ranch, a historic and beloved corner of California wine country, the enclave will be a coveted addition to Auberge Resorts Collection portfolio of award-winning hotels, resorts and residences.
SEE YOU BACK AT THE RANCH.
The rooms at Stanly Ranch are casual and welcoming, featuring natural finishes that warm and invite. Designed with the comfort of home in mind, details such as lounge seating areas, fire pits and outdoor showers make the 78 standalone cottages and suites feel intimate and personal. Surrounded by ranch land, vineyards approach the cottage edge, bringing outside in and agrarian life home.
GET OUTTA TOWN.
The incredible surroundings and fresh open air call for hiking, biking and maximizing nature's wonders. Set at a cyclist crossroads, Stanly is the perfect pitstop with several scenic bike routes for exploring Napa. Curated hikes throughout the property's extensive farms and vineyards allow for getting up close and personal with the working ranch – and for those more inclined to make something with their hands, Stanly's community of makers teach the quality, craft and sustainability of their trades. Create dried floral arrangements, wooden cutting boards, or enjoy a Medicine Hatting Ceremony; these creators' experiences foster the reciprocal, artisan community and impart lasting skills and inspiration that transcend physical time spent on the ranch.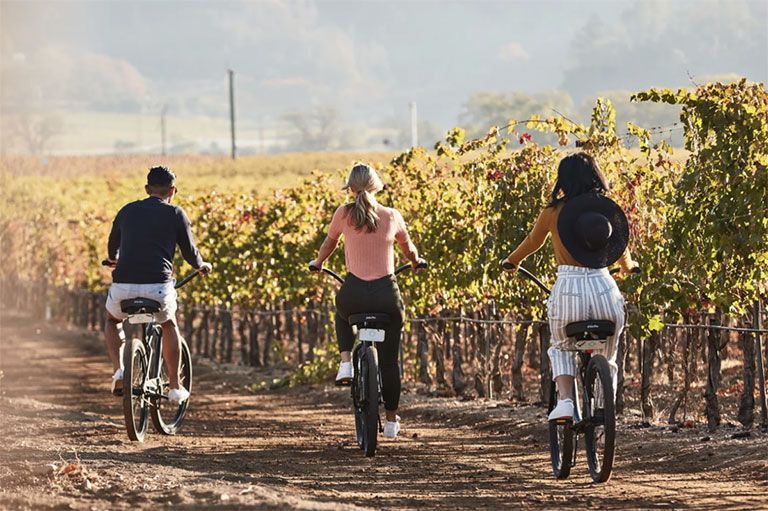 COCKTAIL TIME! PINK PUSSYCAT MARTINI
Ingredients
2 ounces vodka
½ ounce Maraschino Cherry Juice
4 ounces of pineapple juice
Maraschino cherry, for garnish
Directions
Fill a martini glass with ice to chill while you prepare.
To a martini shaker add vodka, cherry juice and pineapple juice, add ice.
Shake until chilled.
Remove ice from glass, place a cherry in the bottom, strain cocktail into glass and serve to your best friends. All others can drink beer.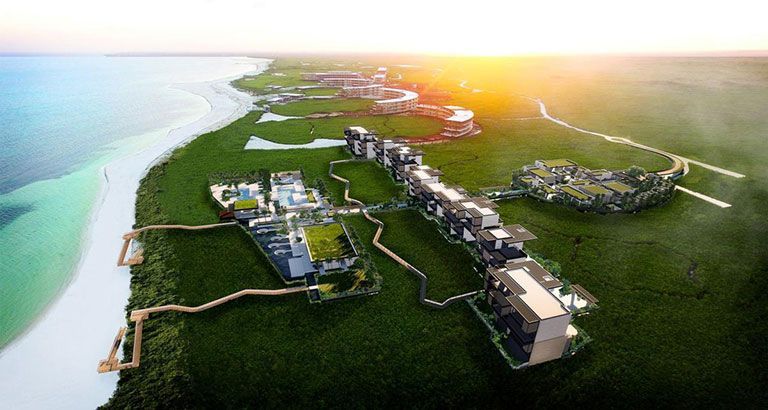 Etéreo
Riviera Maya - Featuring 75 contemporary guesthouses, an Auberge Spa and two dining venues, the resort is a collection of patinaed coral stone structures designed with modern Mayan references and elevated to seemingly float like islands among fields of dense tropical vegetation. The different areas of the resort are laced together by a series of discrete wooden boardwalks and pathways. The enclave, which will have a highly residential feel, will tread lightly on the land and offer stunning ocean views.
COCKTAIL VIEWS.
Etéreo will offer several intriguing dining venues, notably, a world-class restaurant, a cornerstone of every Auberge resort, featuring a modern interpretation of artisanal mexican dishes in a relaxed setting overlooking the ocean. At the water's edge will be a beach club with a long-infinity-edge swimming pool and a casual beachside bar.
Susurros Del Corazon
On the Pacific coast of Mexico overlooking Banderas Bay is a pristine beach surrounded by sun-kissed bluffs and lush equatorial flora. Here, an extraordinary boutique resort is taking shape: Susurros Del Corazón, a new destination from Auberge Resorts Collection opening late 2021. Bringing romance to the Punta de Mita peninsula with captivating and unscripted luxury, authentic connection, and reverence for nature.
BOH-O, BOY!
In a nod to the boho-chic culture of under-the-radar beachside towns dotting Mexico's coastline, Susurros Del Corazón's "bungalow by the beach" experience will begin with a collection of indoor-outdoor spaces that bow to the inherent beauty of the land.
UNRIVALED SEASIDE EVENTS
Susurros Del Corazón offers over 4,800 sq. feet of indoor event space with expansive vista like lawns and direct access to cliffed beaches, a perfect destination for weddings, luxury incentive travel, milestone occasions and meetings.
Kelly McAlister, Maui Jim
Kelly McAlister of Maui Jim will be with us on the calls each week as judge and jury to see which planner really goes all-in with the theme. So engage, be creative, and have fun... and you may be the winner!
She'll be doing some gifting that will surely lift your shelter-in-place spirits!