Real-Time Retreats
Hotel Hotties Part 1: Best New Hotels of 2020
Little Dix Bay and Rosewood Miramar

What does it mean to be part of our Hotel Hotties series? Well, every year the editors of Conde Nast Traveler magazine select the most exciting new hotels to open worldwide, and this 3-part series will enable us to visit 6 of these exceptional properties, all from the comfort of our home offices! Just think how "in the know" you will be if you come along with us!
Rosewood Hotel Group, one of the world's leading luxury hotel companies, encompasses three brands: ultra-luxury Rosewood Hotels & Resorts in North America, Caribbean/Atlantic, Europe, the Middle East and Asia; contemporary deluxe New World Hotels & Resorts in China and Southeast Asia; and KHOS, a dynamic global business lifestyle hotel brand. Its combined portfolio consists more than 40 hotels in 19 countries.
Alright, hotties - what does hot mean to you? Here's some tips to help you get ready for this week's call!
Do you sweat just looking at workout wear? Have a hot little black dress? Chili peppers are hot, Antonio Banderas is hot, but, so is that ugly holiday sweater you got last Christmas! Put on your event planner hat and be as creative as you want! We truly can't wait to see what's hot in your world!
As an added bonus, each week we'll award a planner who goes "all in" a special gift from Kelly McAlister of Maui Jim... so there's extra incentive to go "all in" for our call!
And as always, the first five at 3:55 (no earlier than 3:55, please) to log in will receive a special gift just for being with us. It's a small token of our appreciation for your participation.
Jennifer Jones, CIS
P: +1-561-602-3717
E: This email address is being protected from spambots. You need JavaScript enabled to view it.
www.rosewoodhotelgroup.com
Connect on LinkedIn
Jennifer Jones is Director of Global Sales at Rosewood Hotel Group managing key meeting, incentive and corporate travel accounts in the Eastern US.
Jennifer joined Rosewood in 2018 after a 15+ career with Four Seasons Hotels & Resorts and also spent time as an independent contractor in the cruise industry. Her first job in the hospitality industry was as an intern, at a small family run resort in the Caribbean.
Jennifer is a native Midwesterner, spent many years in NYC and came to South Florida in 2015. Over the years, she has been an active volunteer with her alma mater, Illinois Wesleyan University, including more recently past President of the IWU Council for Women.
Jennifer loves spending time with her 10 year son; and enjoys staying healthy with runs or bike rides in the neighborhood (and starting to get back into barre class). When it's time to relax, Jennifer can be found on the beach reading or catching up with friends and family over a glass of wine.
Erin Kelley
1759 South Jameson Lane
Montecito CA, 93108
P: +1 805 453 4790
E: This email address is being protected from spambots. You need JavaScript enabled to view it.
www.rosewoodhotels.com
Connect on LinkedIn
Erin Kelley, Group Sales Manager for Rosewood Miramar Beach in sunny Montecito, has proudly represented the brand new beachfront resort since pre-opening in 2018.
She is a true Californian born and raised in Los Angeles, spending five years living in San Francisco before returning back to Los Angeles ever since 2013.
Prior to joining the Rosewood team, Erin was with Four Seasons Hotels and Resorts for 8 years taking on roles in both operations and sales & marketing.
Erin and her husband Rob currently live in Santa Monica and when Erin is traveling up to property for site visits or meetings she drives along the iconic Pacific Coast Highway, making for a pretty spectacular commute!
In her spare time, Erin loves paddle boarding, playing beach volleyball, tennis and golf with her family and friends - followed by a great margarita or gin martini.
Brad Simmons
P: +1 347 561 1199
E: This email address is being protected from spambots. You need JavaScript enabled to view it.
www.rosewoodhotels.com
Connect on LinkedIn
Brad Simmons, Director of Sales & Marketing for Rosewood Little Dix Bay, in the British Virgin Islands, has worked for Rosewood Hotels & Resorts since 2013. Initially working as Director of Sales for the opening of Rosewood London, and then making the move to Vancouver, BC in 2016 to become Director of Sales & Marketing for Rosewood Hotel Georgia. Brad headed up the re-opening up of Rosewood Little Dix Bay following a 4 year, multi-million dollar renovation, and is now working on the 2nd reopening in 12 months following COVID-19.
With over 20 years in the industry, Brad has also worked for luxury brands such as One&Only Resorts, The Gleneagles Resort, and The Maybourne Hotel Group, consisting of Claridge's, the Connaught and the Berkeley in London.
Born and raised in the United Kingdom, Brad now resides in New York and has a true passion for the travel industry. In his spare time enjoys fitness (during the pandemic has ran a virtual Brads Bootcamp for his team and colleagues), cooking, cocktail making (in particular loves Gin), the film and TV industry (studied acting), is currently learning the guitar and is also an avid James Bond fan. Finally, he is about to welcome a new member to his family, a 7 week old black German Boxer.
Pictured above, the charming entrance of Rosewood Miramar.
Rosewood Miramar Beach at Montecito
Discover a global collection of one-of-a-kind luxury hotels, resorts and residences, each inspired by the Rosewood A Sense of Place® philosophy to reflect the local culture and spirit of a destination. The result: travel experiences that are authentic, original, and deeply personal.
THE UNIQUELY RESIDENTIAL FEEL OF ROSEWOOD MIRAMAR
Set on the American Riviera along one of Southern California's most beautiful and exclusive coastlines, Rosewood Miramar Beach offers a captivating estate-style atmosphere and the finest leisure amenities.
RELAX IN LUXURY
The distinctive rooms and suites of Rosewood Miramar Beach feel as if you've entered a generously proportioned, luxuriously appointed private residence. Oceanfront suites provide unparalleled beachfront living and measure 960 sq. ft. Cozy Garden Bungalow rooms open out onto fully furnished terraces, and Manor House Oceanview rooms offer a panoramic position to soak in the sunsets.
MEETINGS AT MIRAMAR
Gathering spaces at the resort are warm and welcoming. Rosewood Miramar Beach delivers the perfect venue for any occasion, from intimate social affairs and beachside soirees to impressive corporate gatherings and gala celebrations for up to 400 guests. Indoor settings make the most of the coastal environment with expansive windows and outdoor terraces. A gorgeous beach, private residence and multiple lawns and gardens feature in over 33,000 square feet of meeting and event space.
Located within The Manor House, The Study and Boardroom are ideal for meetings and intimate private receptions, and the resort's stunning Baccarat-embellished ballroom is ideal for large-scale meetings and events. Below is the lawn outside the Chandelier Ballroom, ideal for pre-function or post event possibilities.
ROSEWOOD HAPPY HOUR
Enjoy an authentic cocktail as we Jetset to the British Virgin Islands! This Pain Killer recipe was provided by our friends at Rosewood Little Dix Bay.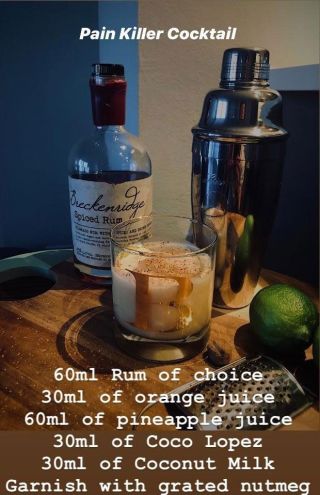 Rosewood Little Dix Bay in Virgin Gorda, BVI
Long regarded as one of the world's greatest getaways, Rosewood Little Dix Bay offers a level of refinement, seclusion and untamed beauty unrivaled in the Caribbean. An eco-friendly resort ahead of its time, Rosewood Little Dix Bay has always featured the natural environment at the heart of its design. One of the first Caribbean resorts to promote sustainable luxury, the beachside retreat has welcomed guests to a world of undiluted tropical splendor for over half a century.
BAREFOOT ON THE BEACH,
DARLINGS
Rosewood Little Dix Bay has long been synonymous with barefoot luxury. Remaining true to its heritage, the resort's British Virgin Island accommodations blend a sophisticated Caribbean sensibility with the understated refinement of mid-century modern design. Interiors are composed of crisp, clean lines, layers of texture, organic forms and natural materials such as wood and stone. Open, light-filled spaces and inviting outdoor living areas accentuate the connection with the island's lush tropical landscape. The rooms and suites are nestled discreetly amongst the manicured gardens and shaded footpaths that edge the resort's pristine crescent beach, while the luxury Caribbean villas offer unmatched privacy on the beach or on the hillside above the bay. All BVI accommodations enjoy ocean views and dedicated butler service.
ACCOMMODATIONS
Rosewood Little Dix Bay's multi-bedroom villas offer unmatched privacy on the beach or hillside. Ideal for families and small groups, the expansive residences feature pools and incomparable views of the sea.
MEETINGS
With options ranging from dedicated indoor meeting rooms to one-of-a-kind outdoor spaces, Rosewood Little Dix Bay offers a spectacular setting for small meetings and gatherings. All occasions are elevated with gracious service and outstanding catering.
Some virtual backgrounds for you to use on our Zoom call, provided by Rosewood Hotel Group!
Kelly McAlister, Maui Jim
Kelly McAlister of Maui Jim will be with us on the calls each week as judge and jury to see which planner really goes all-in with the theme. So engage, be creative, and have fun... and you may be the winner!
She'll be doing some gifting that will surely lift your shelter-in-place spirits!