Real-Time Retreats
Winter Wonderland Part 1: The Canadian Rockies
Fairmont Hotels & Resorts, Canada's Western Mountain Region

Winter is upon us, and even if you find yourself in the sunny Southern states, you're bound to have occasional fantasies of cozying up to a roaring fire in a luxurious snowy retreat in the mountains!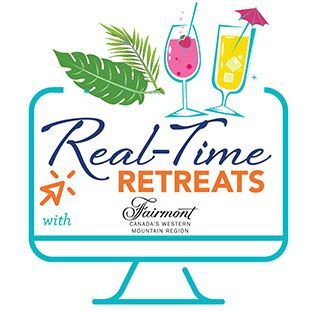 So, this week, we'll break out a steaming cup of cocoa, make ourselves a "Hot Chocolate Bomb" and head to Fairmont Hotels & Resorts, Canada's Western Mountain Region, with one of our favorite destination partners, Karen Carini, Regional Senior Sales Manager, of Fairmont Hotels and Resorts, Western Canada, and Bronwyn Slade, Director of Sales for Pacific Destination Services. We are going on a virtual sleigh ride, with invigorating stops at these 4 jewels in the Fairmont Resort's Western Canada crown - Fairmont Banff Springs Hotel, Chateau Lake Louise, Jasper Park Lodge and Chateau Whistler!
WHAT'S IN IT FOR ME?
In addition to learning about this incredibly scenic part of the world, and sharing some moments of laughter and community, our hosts at Fairmont Hotels and Resorts AND Pacific Destination Services, are providing a 3 night stay for 2, during next year's winter season (Nov-Apr 2021/22) at Chateau Lake Louise, that includes your choice of an activity AND a romantic sleigh ride through the snowy countryside, for the person our judges feel have gone "all in" for this Rocky Mountain experience.
AND.... the first five people at 3:55 to log in will receive a gift from our lovely friends at Fairmont Hotels & Resorts!
Finally, Kelly McAlister with Maui Jim will be on our call, deciding who rocked our theme the best this week and rewarding them with some coooool glasses!
So, Darlings!......
This week in expectation of visiting The Canadian Rockies, we ask - What rocks YOUR world?!?!
Big jewelry rocks ours; so does rock music and aging rockstars! Crystal rocks from the earth and rocks we have climbed and perched ourselves upon. Rocks in a cocktail glass! (yes, darlings, we REALLY like that one!)
Shout out to Maui Jim's Kelly McAlister for coming up with our theme this week - she rocks too!
SHOWERING KELLY!
Speaking of Kelly, she's given our hospitality family so much over the years - and not just the most Awesome. Sunglasses. Ever! But her generosity, kindness, creativity, professionalism, reliability, and care. We know that you all love and appreciate her as much as we do!
Kelly has recently announced her engagement, with a wedding theme of "Christmas in July", taking place next summer. So, naturally we are using this holiday season to host a virtual Christmas shower for her and Jessica!
If you would like to participate, we ask that you bring something to our Christmas "Show and Tell" over the next 3 weeks. This could be an ornament or holiday decor, stories, poems or personal memories, recipes for food & cocktails, anything that means something to you!
We will gather these into a special holiday gift box and memory book for Kelly and Jessica to cherish on their special day.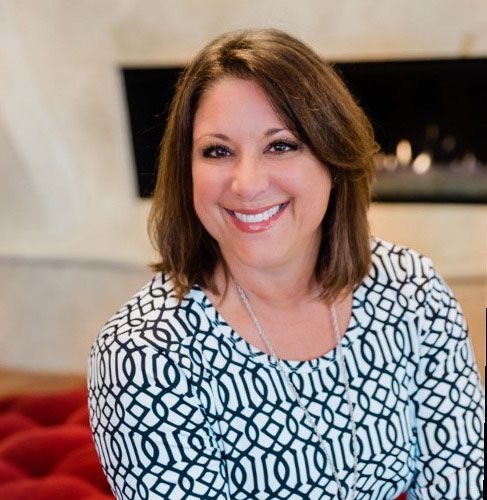 Karen Carini, CITP
T +1 404 355 9976
C+ 1 404 788 5531
This email address is being protected from spambots. You need JavaScript enabled to view it.
Connect on LinkedIn
Having started my career in the airline industry, Wanderlust runs through my veins! I have never been able to stay still for long so Covid has certainly clipped my wings. I do have a new found appreciation for my home, neighborhood and the companionship of my new puppy Ema. I also had the time to invest in myself and this fall, through SITE, received my CITP certification. I had the help and encouragement of friends and colleagues in our Southeast and Texas Chapters. I encourage you all to choose something you are passionate about (personal or professional) and take a deeper exploration while we have some time to focus on ourselves.
After spending much of my sales career in Caribbean destinations, I am honored to represent the bucket list resorts of the Fairmont brand in Western Canada. It was quite a change and one that has challenged me personally and professionally. You will see from our journey today that Canadians are adventurous, they love the outdoors and do winter well! Each time I visit one of these magnificent destinations I am presented with a new activity. That is one of many reasons Canada's Western Mountain Region is so popular with Meeting and Incentive programs.
Bronwyn Slade
Pacific Destination Services Inc.
100‑1450 Creekside Drive
Vancouver, BC, V6J 5B3
Office: 604.685.2205
Mobile: 604.897.2139
This email address is being protected from spambots. You need JavaScript enabled to view it.
Connect on LinkedIn
Following a successful career with Destination Marketing Organizations in Vancouver and Whistler, Bronwyn found her ultimate role as the Director of Sales for PDS, Western Canada's leading Event Production and Destination Management Company. Known affectionately as "Bee," making sales is her honey. Bronwyn's office is a hive of activity, as she works tirelessly with clients to understand their needs, leads her team brainstorming sessions to develop creative and novel program ideas, then recommend unique event and destination solutions.
FAIRMONT HOTELS & RESORTS CANADA'S WESTERN MOUNTAIN REGION
Rising up from the golden prairies of Alberta and lining the rugged coast of British Columbia, the mighty Western Canadian Mountains present travelers with almost 800 magnificent miles of stunning natural beauty to explore and enjoy. From hiking and ziplining to canoeing and fishing, Fairmont offers incredible alpine experiences to thrill adventure-lovers all season long. And for those who seek a more leisurely pace, they'll make sure you experience breathtaking moments amidst glacier-fed spas, panoramic vantage points, and charming mountain towns.
But don't think Canada is just quiet, snowy mountain vistas. This exciting video shows it's much more!
THE WONDER OF WINTER IN THE MOUNTAINS
The mountains are impressive any time of year, but it's the winter that bewitches and seduces. Crested peaks, snow-iced trees, dazzling snow diamonds, bluebird skies, and crisp, fresh air. When the temperature drops, the excitement begins. And with thousands of square miles of wide-open spaces to explore, it's easy to socially distance. Fairmont Hotels & Resorts in Canada's Western Mountain Region – Banff, Lake Louise, Jasper and Whistler – Surrounded by majestic peaks, their fairy tale castles, mountain lodges, and cozy cabins in the woods offer luxurious amenities and services to hibernate in. There has never been a better time to have a one-of-a-kind event in Canada's majestic mountain playgrounds.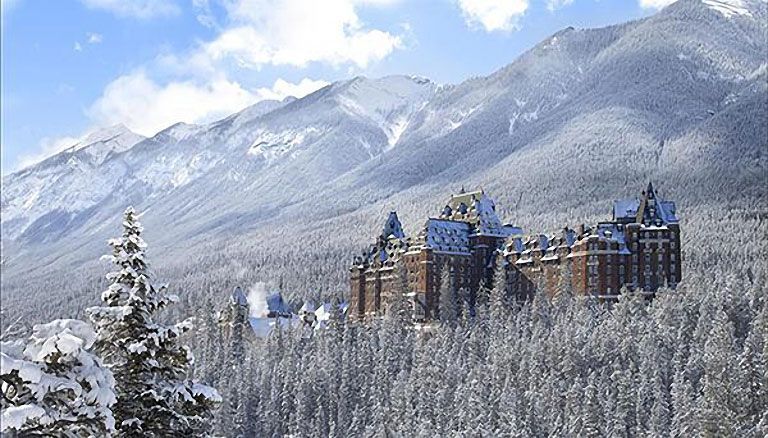 FAIRMONT BANFF SPRINGS
Known as the "castle in the Rockies," it's the gateway to winter adventures like downhill and cross-country skiing, ice canyon walks, dog sledding and heli-skiing. It's an easy walk to the charming town of Banff, but with 12 critically acclaimed dining rooms and bars, group dine arounds can be organized on site. Learn about Banff's iconic history and the area's ecology, or attend a session about local wildlife. And balance your meetings with the quiet sanctuary and luxury of the world-class Willow Stream Spa.
FAIRMONT JASPER PARK LODGE
Located in a World UNESCO Heritage Site and boasting over 700 acres on the property, it's easy to find soul soothing solitude. Or we can arrange for a group snowshoe or cross- country ski around the shores of Lac Beauvert. Explore an ice canyon, heli ski or dog sled. And in the evening, count the endless stars in the night sky – the second largest Dark Sky Preserve in the world. With heritage cabins and cozy fires in handcrafted rock fireplaces it's tempting to hibernate for the winter.
FAIRMONT CHATEAU LAKE LOUISE
Fronted by the world-renowned Lake Louise and flanked by mountains, Mother Nature offers activities from mild to wild in the hotel's "backyard." For a serene start, rise early for the time-honored tradition of watching sunrise break over the summit, practice yoga or take a stretch class. And no Canadian winter is complete without a skate or rousing hockey game – but they provide a frozen glacial lake for the ultimate mountain magic. And at the end of the day, step up to the ice bar – a lakeside ice sculpture for a cool networking event.
FAIRMONT CHATEAU WHISTLER
Whistler's naturally spectacular alpine setting is ideal for the young and young at heart and the Chateau's iconic slope side setting provides the perfect place for groups to gather – inside or out. Ski or snow board with a private guide for the ultimate insider's peak experience. Your team can slide like an Olympian in a bobsleigh with speeds of 125 km or fly like an eagle on a heart-racing zipline over treetop suspension bridges and old growth forest. From winter ziplining, riding the Olympian bobsleigh, snowmobiling or dog sledding in the backcountry, there's a menu of non-stop activities to inspire.
CHOCOLATE IS THE BOMB
As an added bonus on our call, Karen Carini will be making Hot Chocolate Bombs for us - a special recipe from Fairmont Hotels & Resorts!
Some virtual backgrounds for you for our Zoom call, provided by Fairmont Hotels & Resorts!
Kelly's 'Christmas in July' Wedding
Kelly McAlister of Maui Jim just got engaged! She and Jess are planning a 'Christmas in July' themed wedding, and we want to help!
Share your favorite Christmas tradition, story, ornament, decoration, or recipe... and we'll compile everything and present them to the brides to be for their wedding!
Each week for three weeks - December 9, 16, and 23 - we'll carve out a 'Snow and Tell' portion at the end of the call so you can share your items with Kelly. Afterward, we ask that you mail your ornament or decor item to Carol, or that you email your story, recipe, or tradition to Whitney. We will compile these things into a keepsake box and book for Kelly & Jess.