This week we travel to the exotic, exciting Colombia! Named South America's Leading Destination in 2019 by the World Travel Awards, Colombia is a country of diverse cultures, rhythms and colors!
From the Seven Colors River to Tayrona National Park, from the jagged crests of the Sierra Nevada mountains to the bustling cities of Cartagena and Bogata, don't think for a minute that you know this region of the world until you see it through the 'eyes' of our virtual tour guides, Beatrice Guidi di Bagno of Colombia en Colores DMC and Patricia Sahin and Maura Zhang with Latin+Plus DMC Group.
This week we're asking you to wear your favorite color - and lots of it! Tell us how your favorite color affects you and how you use it in your every day life, your surroundings, your attire. We want our Zoom call this week to look like a veritable rainbow, folks!
The first five after 3:55 to log into the call (no earlier than 3:55pm, please) will win an early bird gift.
Plus of course, Kelly McAlister with Maui Jim will be rewarding the planner who does it right this week... so engage, be creative, and have fun!
Beatrice Guidi di Bagno, CIS, CITP

Colombia
How do you encapsulate an entire, vibrant country in a single email? Well, perhaps this list of 'Bucket List of Places to Visit in Colombia' (from the Colombia Tourism site) will give us a place to start.
Fly over the largest rainforest reserve in the world
Sleep under the stars in one of Colombia's four deserts
Walk among urban art in Medellin
Visit studios of talented artists in Cartagena de Indias
Hike freshwater falls and coffee farms in the middle of the Sierra Nevadas
See the tallest wax palm trees in the world in the Cocora Valley
Colombia is one of the most beautiful countries in the entire world. International travelers frequently flock to Colombia to explore its rich biodiversity, lush highlands, and tropical seaside resorts. But Colombia offers so much more – the energy and liveliness of the Colombian people is unmatched and underscores why it's known as the land of the rhythm.
THE REGIONS
There's not an activity, a terrain, or a climate that you can't find in Colombia. Enjoy these distinct regions, all perfect for group travel.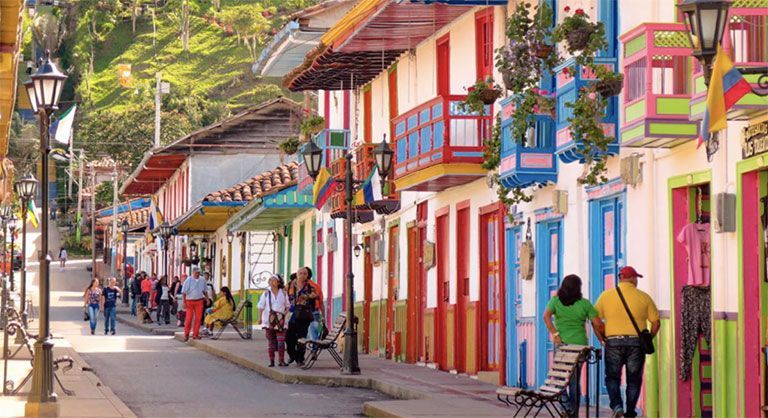 COLOMBIAN CARIBBEAN
A place full of historic cities, paradisiacal beaches, and great culinary diversity. The Caribbean is one of the most colorful, joyful regions of Colombia. Its beaches, flavors, festivals, music—its people and their stories—make this place one of the most noteworthy tourist destinations in all of Colombia.
Another of this region's many attractions is the wide variety of beaches it offers, unique for their crystal-clear water, white sands, and stunning landscapes. When you visit the Colombian coast, don't forget to visit places like Playa Grande, Bahía Concha, Palomino beach, and Neguanje beach, where you can enjoy the sun, ocean breeze, and warm weather.
COLOMBIAN ANDES
In the Andes region, you'll find vast cities, charming villages, and a wealth of ecological diversity. Located in the heart of Colombia, the Andes region is one of the most populated areas of the country. Its geography, water resources, and great cultural and natural wealth will leave you wanting more.
The three branches of the Colombian Andes—the Cordillera Occidental, Cordillera Central, and Cordillera Oriental—are home to valleys, canyons, and plateaus that fill the area to the brim with breathtaking beauty. Among these majestic mountain ranges, you'll also find a river system composed of the two most important rivers in Colombia: the Magdalena and the Cauca.
In addition to these stunning natural resources, the number of important cities in the Andes region also help set it apart. For example, Bogotá, the capital city of Colombia, is located in this area. With a population of over 7 million, Bogotá is currently one of the most popular places to do business in Latin America.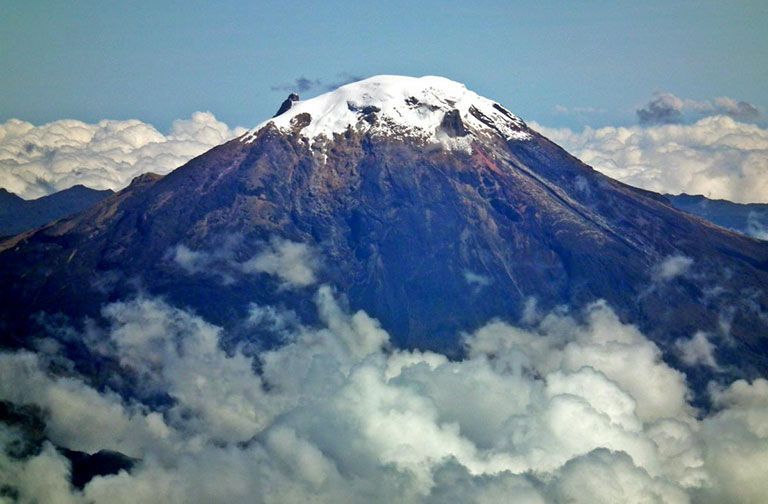 COLOMBIAN PACIFIC
The soothing sounds of a marimba de chonta and extraordinary views of visiting humpback whales. The unique contrast between the beaches' dark sand and thick green foliage and the spirited rhythms of currulao music captivate this area's many visitors.
This many-colored paradise is full of beautiful, exotic beaches where you can enjoy the calming sound of ocean waves rolling up the shore and admire the area's breathtaking views.
COLOMBIAN AMAZON
The longest river in the world preserves a wealth of natural resources and ancient ways of life. A significant part of Colombia's rich cultural diversity and impressive natural wealth is rooted in the Amazon. The area is named for the magnificent river that winds through its thick, green jungle, giving life to the area's unparalleled ecosystem.
The Amazon river, which also passes through Brazil and Peru, is the longest and widest river in the world. Not even the Nile, Yangtze, or Mississippi rivers combined have it beat. This powerful body of water doesn't just nourish and sustain the land around it—it has helped forge an identity, and a way of being in the world.
COLOMBIAN PLAINS
These warm grassland plains hold some of the most beautiful places in the country.
Your visit to Colombia wouldn't be complete without a trip to see the sun set over the plains; a postcard-perfect image of magnificent trees crowning miles of plains that extend further than the eye can see, challenging us to discover what secrets lie far off in the distance.
The impressive natural wealth of this region is accompanied hand-in-hand by an equally fascinating cultural tradition cultivated by the "llaneros," workers who raise cattle and are known for wearing "liquiliquis" (an outfit generally comprised of a button-down shirt and matching pants). These herders tell ghost stories, participate in "coleos" (an event in which the "llaneros" pursue cattle on horseback), and dance the "zapateo" to "joropo" music.
MEETINGS AND GROUPS
Colombia's strategic location makes the country the ideal destination for international events and conventions. The variety in climates, landscapes and the friendliness of its people makes the country an ideal place for business meetings to become unforgettable experiences.
Those places that only exist in Colombia
Colombian landscapes are unique. In the land of rhythm and flavor you will find from innovative cities full of cultural and gastronomic richness to quiet villages surrounded by imposing mountains, all in one place and ready to be the scene of the most demanding events.
This is the door of South America
Colombia has extensive international connectivity, ports over the Atlantic and Pacific and more than 900 weekly air frequencies. With no stations, its natural settings are available to host the most unforgettable events any day of the year. And best of all: a land full of rhythms and joy that receives those who visit it with open arms.
CUISINE
Colombia has numerous things to captivate. On the one hand, an ample offer of traditional regional recipes; on the other, new trends that make the best of local products to turn Colombian flavors into innovative dishes. We love the colloquial expression, "Full belly, happy heart."
For something fun, discover the tropical fruits of Colombia and the regions where they grow.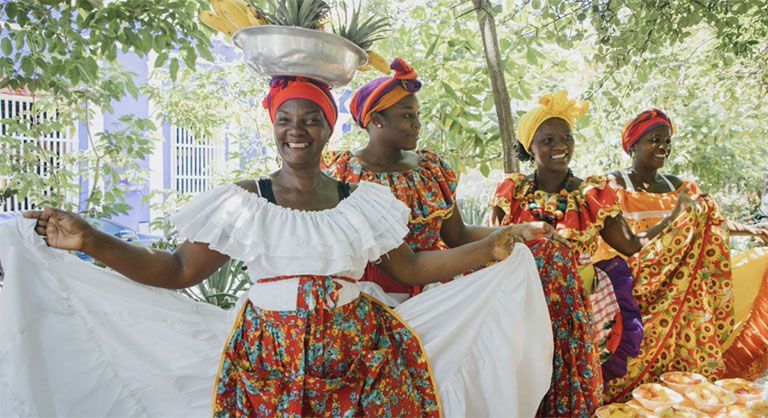 Aguardiente Mule
This is unquestionably Colombia's national drink. No Colombian celebration (or ordinary Saturday night) is complete without multiple shots of Antioqueño, literally translated to, 'water that is burning.' Every South American country has its own variation of aguardiente, but Colombia might just be the biggest consumer. Colombian aguardiente, or "guaro," is derived from sugarcane and flavored with aniseed. Its alcohol content hovers around 29%, and although it can be found along the length and breadth of the country, it is most popular inland. Inhabitants of the Caribbean coast generally prefer rum.
Believe us, it's highly unlikely you want to drink a straight shot of Aquardiente, so here's a twist that's a little more 'water' and a little less 'fire.'
Ingredients
2 fl oz Cumbé Premium Aguardiente
½ fl oz Strega liquor
½ fl oz lime juice
4.5 fl oz ginger beer
Preparation
Pour all ingredients into a metal mug.
Add crushed ice.
Lightly stir.
Garnish with a lime wheel, grated cinnamon, and crystallized ginger.
COLORS AND RHYTHMS
Each week, we offer some suggestions on how to get set for our virtual tour. This week, we center those on the theme of color and rhythm. Here goes:

What your favorite color says about you
Color.com - absolutely not what we expected to find at this URL. But nonetheless, pretty interesting.
Long live typos! Without our errant thumbs, we wouldn't have found this color palette generator: Coolers.co
And the rhythms! Colombia is said to be the "land of a thousand rhythms" with a mix of traditional and modern music varying by region and community. Colombian music has been influenced by Africa, indigenous Africans, native Colombians, Europeans, Spanish and Americans.
And we dare you to sit still... La-33
Feeling a bit intimidated? Don't worry. Here's how to fake salsa dancing.
Some virtual backgrounds for you to use on our Zoom call, provided by Colombia en Colores!
Kelly McAlister, Maui Jim
Kelly McAlister of Maui Jim will be with us on the calls each week as judge and jury to see which planner really goes all-in with the theme. So engage, be creative, and have fun... and you may be the winner!
She'll be doing some gifting that will surely lift your shelter-in-place spirits!