Real-Time Retreats
Hotel Hotties Part 2: Best New Hotels of 2020
Bishops Lodge and The Lodge at Blue Sky

Auberge resorts are known for 'unforgettable experiences in storied destinations,' and you'll quickly see why as Gale McClurkan, Global Sales Director, and Katie Wannamaker, Regional Sales Manager, walk us through their beautiful properties of Bishops Lodge in Santa Fe and The Lodge at Blue Sky in Park City.
As Part Two of our 'Hotel Hotties' series, we'll see why these two properties are honored among The World's Best Hotels on Condé Nast Travelers' 2020 Hot List.
To put you in the Auberge mindset, click here to enjoy a welcoming video from Auberge, so that when our virtual tours are over, we can look forward to the real thing!
For this week's virtual trip to big sky country, we're asking you to dress up in an outfit perfect for a ranch, that's either 'hot' or 'cold!' Since these properties offer so much for every season, we thought it fitting to celebrate all of the ways one can enjoy these locales in any weather! Don your ski goggles, or throw on your cowboy hat! How about sweaters and s'mores, or a breezy cactus cocktail with your Maui Jims? It's up to you... Just give it your best shot, whatever you do! For inspiration of activities and itineraries in all kinds of weather, click here.
As an added bonus, each week we'll award a planner who goes "all in" a special gift from our partners at Maui Jim... so there's extra incentive (pun intended) to dust off your cowhand best and join us this week!
Gale McClurkan
817-773-8374
This email address is being protected from spambots. You need JavaScript enabled to view it.
Connect on LinkedIn
Gale McClurkan started in hotel sales in 1998. After numerous roles with Ritz-Carlton, she jumped at the chance to join Auberge Resorts Collection as Global Sales Director, representing the entire brand portfolio.
Gale is a native Texan and lives in Coppell, Texas, with her husband, Steve, daughter, Olivia, and son Blake. She is addicted to any sport her kids participate in, as well as a huge fan of the Dallas Cowboys and Texas A&M Aggies.
Katie Wannamaker
2071 State Road 32
Wanship, UT, 84017
M 575.770.5550
This email address is being protected from spambots. You need JavaScript enabled to view it.
https://aubergeresorts.com
Connect on LinkedIn
I've been honored to work for this award-winning company since 2009. During my time with Auberge Resorts, I have been lucky to represent many of its enchanting properties and most recently have been on the opening team as the Senior Regional Sales Manager for The Lodge at Blue Sky, outside of Park City, Utah.
This property has been a dream and fits into my life like the perfect puzzle piece. I am a woman of the mountains, of cobalt skies, the arts and the outdoors; all of which are pillars to the 3,500 acre ranch. My husband, Logan, and I reside in the absolutely captivating Taos, New Mexico.
We feel that Taos is a wonderful place to raise a family. We are the proud parents of two young ladies, Stolle (12) and Ava (10). Logan is a well-known ceramic artist who shows his work internationally, including at The Lodge at Blue Sky. Weekly hikes with friends in the canyon, mornings on the tennis courts, Saturdays rafting on the Rio Grande, and yoga sessions with girlfriends are some of the ways I enjoy my life outside of work.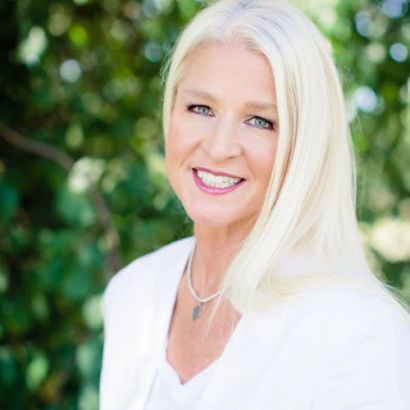 Kristin Starmer
Kristin has spent more than 20 years in the hospitality industry. She grew up in the San Francisco Bay Area riding her horse through the Redwood Forests which gave her a great love and appreciation for everything outdoors. She attended UCLA where she rowed on the crew team and helped her team secure the Pac10 Division Championship. After graduating she moved to Lake Tahoe and got her first hospitality job opening the Resort at Squaw Creek and has never looked back!
She worked for Ritz-Carlton for 10 years where she opened the Ritz-Carlton, Lake Tahoe before moving on to the Ritz-Carlton's of the Carribean and then back to The Ritz-Carlton, Half Moon Bay in her native Bay Area. She loves skiing, mountain biking, kite surfing and everything that involves an outdoor adventure. She loves her work because of the great people she gets to work with and her clients which she considers friends.
The Lodge at Blue Sky
Park City, Utah - Listen to the flow of spring-fed Alexander Creek. Hear the footfall of special rescue horses over hard-packed trails. Spot a herd of wild elk grazing on the horizon. Just 35 minutes from Salt Lake City airport but a world away, this 3,500-acre private retreat in the Wasatch Mountain Range is where you will leave the cares of the modern world behind and powerfully reconnect with nature, from wildlife-viewing hikes to kids camp at the sustainable farm, from mountaintop family yoga to heli-fly fishing in high Alpine lakes. You'll feel right at home with the relaxed mountain lifestyle—and with the Blue Sky family.
A PLACE FOR BODY, MIND, AND SPIRIT
The iconic Edge Spa at Blue Sky is a wellness sanctuary like no other. Aptly named for its dramatic location perched on the side of a dramatic precipice overlooking Alexander Creek, the Edge Spa seeks to restore guests after an enriching day exploring the great outdoors. Five treatment rooms house regionally inspired treatments and products which feature natural, bloom-to-bottle ingredients, some of which have been grown or wild-harvested on-site. Mindfulness pursuits, such as yoga and guided meditation are enjoyed in the Movement Studio or out in a remote natural alpine location , and it can be combined with an invigorating hike or horseback ride, so that guests can receive heightened health benefits. The Edge Spa boasts a serene relaxation pool overlooking Alexander Creek for guests to enjoy before or after their restorative treatments.
COCKTAILS UNDER THE STARS, AND OTHER COOL SETTINGS...
Venues at The Lodge at Blue Sky are as unique as they are varied. Ranging from a converted barn to a vintage tavern dating back to the late 1800's to an 8,000 square foot venue called The Arena that was once the original riding area. Their line up of unique event spaces includes:
The Terrace
An expansive flagstone patio with a majestic mountain backdrop, this al fresco venue is ideal for events, cocktail receptions or after-dinner nightcaps with a bonfire and whiskey tasting.
The Yurt
Set atop an alpine overlook in one of the most scenic spots on Blue Sky's property, The Yurt is ideal for intimate dinners or sundown cocktails.
The Pergola
A covered wooden platform overlooking the rolling hills and mountainous horizon, this venue is ideal for cocktail receptions, whiskey tastings, and small dinners. (pictured above.)
The Tavern
An original cabin dating back to the late 1800's, The Tavern now serves as the outpost saloon. The large adjacent field is ideal for al fresco events, experiential dinners, poker tournaments and whiskey tastings, or lunchtime barbeques with a whimsical nod to our Western heritage.
The Arena
An 8,000 square-foot venue that was once the original indoor riding arena for Blue Sky Ranch and which is now the ideal space for larger events. Crafted from recycled local barn wood, this space is the perfect backdrop for an authentic big sky experience.
SWEET DREAMS...
Blue Sky was designed with deep reverence for nature's beauty and its unique setting on 3,500 acres of lush, untamed landscape. Choose from three unique accommodation styles and locations: Sky Lodge, Earth Suites, or Creek Houses. Each celebrates the unique elements of the natural environment on which they are situated, and are located within a 3-minute walk from the main amenities of the resort.
THE HORSE THIEF COCKTAIL
1.5 oz Reposado Tequila
.5 oz High West Campfire Whiskey
.5 oz Green Chartreuse
.5 oz Ginger Syrup
.5 oz Lime Juice
3-5 Blackberries
In a shaker, muddle blackberries with ginger syrup. Add remaining ingredients and ice. Shake to chill.
Half rim a rocks glass with Tajin spice (or similar house-made spicy lime seasoning) and pour over a big cube.
Bishops Lodge
Santa Fe, New Mexico - Settled more than 150 years ago by Bishop Jean Baptiste Lamy, this iconic Santa Fe landmark is steeped in history and is undergoing a sensitive restoration to preserve its distinctive Southwestern heritage for the next generation. Explore the vibrant culture of discovery and expression through nature-driven adventures, visual arts, ancient healing arts, culinary arts and the art of gathering, all offered on 317 acres of Sante Fe landscape.
HISTORICALLY SPEAKING...
Embark on a sunset horseback ride to a scenic spot for a private mescal tasting; explore Santa Fe's myriad art galleries with an expert guide; get grounded with candlelit crystal bowl sound bathing meditation at Turquesa Healing Arts Studio; savor elevated Southwestern cuisine at Chef Dean Fearing's SkyFire. Bishop's Lodge is a year-round destination for curious travelers seeking seclusion and transformative experiences rooted in nature.
SANTE FE STYLE
Enjoy a reception room inspired by the 'sense of place' that earned Santa Fe its National Geographic Legacy Award.
MEETINGS, PRAIRIE MADE
The 3,200 square foot Hall is ideal for events, or reserve an artistically-inspired private space for a unique meeting experience. Create a memorable event for small groups in the Bunkhouse or atop the Mesa, or dine in high style at SkyFire or in the private dining room. Overall, 9.700 square feet of versatile space.
Some virtual backgrounds for you to use on our Zoom call, provided by Auberge Resorts Collection!
Kelly McAlister, Maui Jim
Kelly McAlister of Maui Jim will be with us on the calls each week as judge and jury to see which planner really goes all-in with the theme. So engage, be creative, and have fun... and you may be the winner!
She'll be doing some gifting that will surely lift your shelter-in-place spirits!